House of the Dragon Trailer - The Loop
Play Sound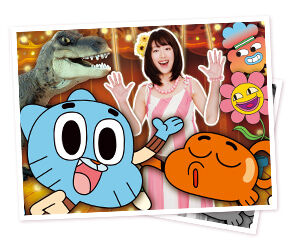 "Yes / No Continue?" is a song by Moumoon. Its animated music video serves as a Japanese promo for The Amazing World of Gumball.
Music video plot
The music video starts with Gumball and Darwin walking out of the house and into school. But they get a cold stare with Tina, who starts to want to bully them. Gumball backs away while Darwin runs to the Synchronized Swimming Club in the pool. Gumball runs from Tina after throwing something at her. He runs into the library but is surrounded by her, Rocky, Carmen, Tobias, Anton, Idaho, Molly, Leslie, and Banana Joe. Molly launches Banana Joe at Gumball, but misses and hits Anton. Gumball and Darwin flee to a dance stage and try to blend in with the singer of the song until Miss Simian comes out of nowhere and screams at Gumball. The two flee to the Forest of Doom, but are stopped by the monstrous deer creature. Gumball and Darwin finally resort back to their house with Anais, Nicole, and Richard, being chased by Miss Simian, Rocky, Carmen, Tobias, Anton, Molly, Leslie, Tina and the deer. They get in, although the others follow suit. They attack the Wattersons and destroy their house, and before long, it explodes like a nuke. Luckily, the frame zooms out to see this is a game on the TV Gumball and Darwin are playing. On the couch, Gumball presses the buttons on his controller like crazy while Darwin watches, surprised. Another zoom out shows the TV Gumball and Darwin are watching. The game scene changes into the Cartoon Network logo as the song ends.
Lyrics
Romanized Japanese
Begasu sa nagara ni pikapika shitete yo
Nemuke ga tobu hodo tanoshimasete yo

I don't wanna give it up I don't wanna give it up renshoumuteki no zunou pureiyaa
Batoru no aite ga tsuyoki de semete mo oji kizuku koto no nai shugaa hai
Aa wata ame mitai na yume wo mimashou
Saa sawayaka ni shoubu wo idomimashou

Mada mada nerenai yo watashi ni hiru to yoru wa nai
Asobitsukarete beddo he tobikomu sono toki made
Mada mada yamenai yo tsugi no suteeji ga matteru no
Ikeru tokomade itte mada susumu Yes. Continue?

Uda uda iwanai no nageite mite mo shouganai
Ushiro wa furimukanai saigo no sono toki made
Mada mada yamenai yo sukoshi mo muda ni dekinai no
Geemu wa eien ni owaranai Yes. Continue?
English translation
Sparkle like Vegas
Entertain me enough to wake me up

I don't wanna give it up, I don't wanna give it up, a clever player's unmatched streak
Even if my opponents intimidate me in battle, I'm on a sugar high with no fear
Ah! Let's dream like cotton candy
Come on, let's play the game like new!

I can't sleep yet, my days and nights are nothing
Until I jump into bed, tired from playing
I won't stop yet, the next stage is waiting
I made it the whole way. I'm still going. Yes. Continue?

Don't talk nonsense, there's no use crying
I won't look back until the very end
I won't stop yet, not a moment to waste
The game is never-ending. Yes. Continue?
Data
Artist by Moumoon (Vocal by YUKA)
Lyrics Written by YUKA
Music Composed & Arrangement by K.MASAKI (Kousuke Masaki)
Album: No Night Land
Music video characters
Main Characters
Minor Characters
Trivia