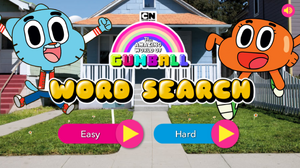 Word Search is an online game on the Cartoon Network website based on The Amazing World of Gumball. It was released on December 14th, 2019.
Gameplay
The player chooses between two game modes: Easy and Hard. Both modes contain an 11×11 word search with eight words that the player has to find. The player's speed determines the end result— if they manage to find all the words in the word search in under fifty-five seconds, they are awarded three stars. The player gets two stars if they find all the words in under two minutes and ten seconds, and one star if the words are found in under three minutes and twenty-five seconds. There is no way a word search can be failed, but if the player needs more than three minutes and twenty-five seconds to find all the words, they will not be given any stars.
Words
All of the words are either places or characters from the show. They are the following:
Characters
Non-playable
Gumball (in the title screen)
Darwin (in the title screen)
Gallery
Trivia
In the game's title screen, Gumball is wearing his jock outfit, commonly used in the show's merchandise.
The game's soundtrack is the same as the opening theme of the show.
Goofs/Errors
Anais' name is spelled as Anaïs.
External links
Community content is available under
CC-BY-SA
unless otherwise noted.