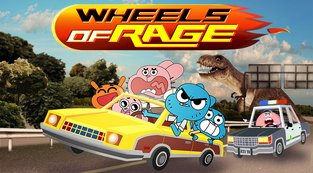 Wheels of Rage is an online game based on The Amazing World of Gumball. It was developed by Rocket 5 Studios, and produced by Cartoon Network. It was released on May 11th, 2015.
Plot
It is Gumball's birthday, and the Wattersons are holding a surprise party for him. However, Richard forgot to decorate the house, causing Nicole to frantically race across Elmore, trying to prevent Gumball from knowing he is having a party.
Gameplay
The goal of the game is to drive people around Elmore in preparation for Gumball's birthday party. Additionally, to advance the story, certain items must be purchased. Nicole starts off with $10; more money can be earned by driving side characters around town within a certain time limit.
Points are awarded based on speed of delivery and damage sustained during the trip. The faster the trip, and the fewer times the player crashes, the more points earned. Crashing also damages the car. A damaged car moves and accelerates slower. Fixing the car is accomplished by driving into a repair shop, indicated by an open garage door and a repair symbol. This, however, costs money.
Cast
Playable
Non-playable
Enemies
Locations
Gallery
External links
Community content is available under
CC-BY-SA
unless otherwise noted.