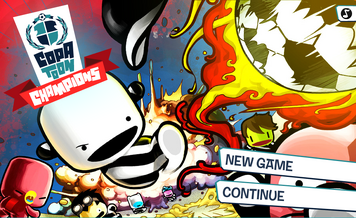 Toon Cup: Champions (Spanish: Copa Toon: Campeones) is a Cartoon Network game exclusive to Latin America.
In this game, The Amazing World of Gumball is one of the teams. Gumball is playable as a coach, along with his three Toonix team members. Two of these Toonix members wear a Gumball hat, but they have a different facial designs. The third one wears a Darwin hat.
In the last level, the player goes to Gumball's toon world, where they challenge Tobias, Leslie, Tina, and Banana Joe in a regular game. The boss of this world is Miss Simian. To challenge Miss Simian, the player must defeat all four normal challengers in Gumball's toon world.
In this game as well, there are some cards based on the show. Most of them are references to an episode, like Gumball as a skater from "The Pressure."
Gumball Badges
As of September 2012, badges are added to this game.
NOTE: Badges can be earned on the Cartoon Network Latin America websites only, and players must be logged in with their account in order to claim their badges.
TBA
Card Gallery
Gameplay Gallery
Trivia
This is one of the few CN Games that cross over with other cartoons. Others include FusionFall, Project Exonaut, and Formula Cartoon.
There is a bug when if an opponent loses the ball card is activated, Finn or his team may replace one of the chosen team besides Finn.
There is another bug wherein upon completing all the cards in Elmore, the player cannot return to Elmore.
External Links
Community content is available under
CC-BY-SA
unless otherwise noted.