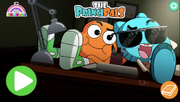 The Princi-Pals is an online based on The Amazing World of Gumball.
Story
In an alternative take on the events of "The Fraud," after Gumball and Darwin discover that Principal Brown's diploma is fake, they decide to take advantage of it and trick Nigel into confessing his farce to the entire school by using the intercom. After Brown resigns to get an actual diploma, the Watterson brothers take over as principals (or Princi-Pals, as they call themselves) and assume control over Elmore Junior High.
Gameplay
The game's primary gameplay mechanic is making decisions to resolve problems with the students, school staff and other characters. The player either has to click Gumball (who most of the time will give irresponsible answers) or Darwin (who more often than not will be more sensible than Gumball). Depending on which one of the Watterson brothers is chosen, at least one of four meters will increase or decrease: the Confidence meter (which shows how much the two brothers feel confident on their position), the Students meter (how much Gumball and Darwin's friends like them), the Teachers meter (how long the staff will endure the Wattersons brothers' leadership) and Money (the school budget). If one of the meters becomes empty, the game is over.
Each problem that is solved costs an hour on the school day. Once one day ends, another one begins, with brand-new problems to be solved. They also award the player with stickers on the Yearbook, which can be seen on the main menu. There are a total of sixty-one stickers: sixteen of students, six school staff members, eight random people, thirteen stories and eighteen photographs.
Every once in a while, a story will be unlocked, which will follow a set group of events featuring a certain character that takes course during multiple hours. There are also mini-games that the player can compete to win certain awards such as power-ups.
Characters
Playable
Non-Playable
External Links
Community content is available under
CC-BY-SA
unless otherwise noted.