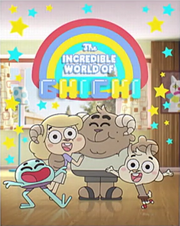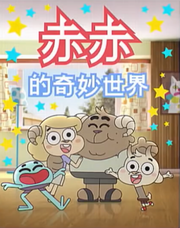 The Incredible World of Chi Chi (Chinese: 赤赤的奇妙世界 Chì chì de qímiào shìjiè) was a TV show in The Amazing World of Gumball. It first appeared in "The Copycats," where the main characters of this show meet the Wattersons.
The series revolves around the lives of Chi Chi, a goat, and Ribbit, a frog. Chi Chi and his family make money off the Wattersons by uploading videos of them mimicking their actions to Elmore Stream-It.
Characters
Image
Name
Gender
Species
Description
Chi Chi
Male ♂
Goat
This goat is attention of the center. He is serious, don't you trust him? A heavy party-love hero with powerful personality defectives.


He is Gumball's doppelgänger who wears a brown shirt with pants and red shoes.

Ribbit
Male ♂
Frog
This frog is a frog, but why? He is so green and mighty you wouldn't trust him with lunch. What's that? Yes, he is determined.


He is a light blue frog in purple pants that resembles Darwin.

Mom
Female ♀
Goat
Wowee - what a mother. Who cares if she's annoying? You?


She is Nicole's counterpart who is just as skilled as Nicole in martial arts. Her real name is unknown.

Dad
Male ♂
Goat
I'm a tired lazy belly male lurking inside sofa. Watch him obnoxious. Laugh and spoil yourself.


He is Richard's knockoff who is just as lazy as him and gets tired quickly. His real name is unknown.

Anais Rip-off
Female ♀
Rabbit
Woman no right to celebrate in republic of people.


She was supposed to be Anais' counterpart in The Incredible World of Chi Chi, but she does not exist due to China's two-child policy and preference for sons.
Trivia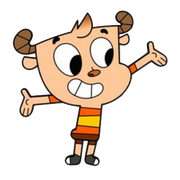 Chi Chi and his family greatly resemble the characters from Miracle Star, who were present in the original storyboards for "The Copycats." During the April 29th, 2017 screening session in London, it was revealed that the designs were altered to prevent a possible lawsuit.[1]
The show had an official website and an Elmore Stream-It channel. However, as of the end of "The Copycats," there is no trace left of the show in the search results of Elmore Stream.
References
Community content is available under
CC-BY-SA
unless otherwise noted.