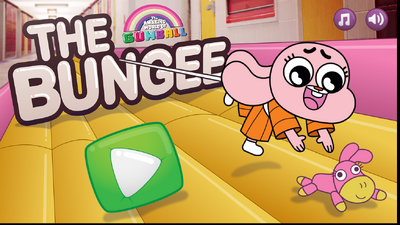 The Bungee is an online platformer game based on The Amazing World of Gumball, developed by Tiny Monsters Studios. It is available to play on Cartoon Network HQ.
Gameplay
After watching a Daisy the Donkey Show commercial on TV, Anais decides to collect Daisy dolls. She appears on a platform in a safety harness, and is stuck to the wall via a bungee line. The game begins when Anais starts running. The player must use the up and down arrow keys to collect Daisy dolls and other items, while avoiding caution cones. Collision with the cones will cause Anais to lose an amount of collected dolls, which she attaches to her bungee cord.
As the bungee stretches and exerts a stronger pull on Anais, she will start to slow down. Collecting Daisy dolls and items will extend the distance that Anais can traverse before the bungee cord starts to pull her back to the start point.
The second part of the game begins when Anais is unable to continue forward. The bungee cord will pull her back and send her flying across the platform. The player must use the up and down arrow keys to avoid caution cones and make it through hoops that will appear on screen. Passing through hoops increases the multiplier factor for the total score after the game ends.
After Anais smashes into the wall, the game ends. The total score is calculated by multiplying the number of dolls collected with the number of hoops passed, and then further multiplied by 100.
Cast
Main Characters
Minor Characters
Gallery
Trivia
External Links
Community content is available under
CC-BY-SA
unless otherwise noted.