House of the Dragon Trailer - The Loop
Play Sound
"Well, you know I could help you with that."

This article is about the show. You may be looking for the comic series.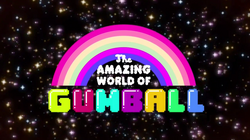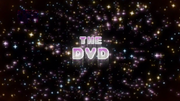 The Amazing World of Gumball (sometimes referred to simply as Gumball) is a British-American animated television series created by Ben Bocquelet for Cartoon Network. It is produced primarily by Cartoon Network Studios Europe (formerly Cartoon Network Development Studio Europe) and Studio Soi. On May 3rd, 2011, a sneak preview of the episode "The DVD" was shown after the premiere of The Looney Tunes Show. It officially premiered on May 9th, 2011, with the episodes "The DVD" and "The Responsible," and ended on June 24th, 2019, with "The BFFs" and "The Inquisition." According to the Cartoon Network website, The Amazing World of Gumball is one of the most popular shows on the channel, along with Adventure Time, Regular Show, and Steven Universe.
The series revolves around the life of Gumball Watterson, a twelve-year-old cat who attends middle school in Elmore. Accompanied by his pet, adoptive brother, and best friend Darwin Watterson, he frequently finds himself involved in various shenanigans around the city, during which he interacts with various family members—Anais, Richard, and Nicole—and other various citizens.
A television movie based on the series, set for release in 2022, was announced on February 17th, 2021.
Early concept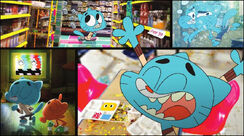 There were some posters made from January to March 2011 during the plans, hinting the vast changes between the pilot and these posters, to the finished concept on air today.
Miscellaneous changes
The show's logo had a different design.
Changes to Elmore Junior High
Changes to the Watterson family and neighborhood
Episodes
There have been six seasons. The complete list of episodes can be seen here.
Every single episode's title begins with "The" and then the name of a supporting object or matter. The only episodes not to do this are "Christmas" and "Halloween."
Intro
Main article: Opening theme
Animation of The Amazing World of Gumball
The first ten episodes or so were animated slightly differently from the later episodes. All the episodes have mixed media, with CGI dinosaurs, mixed in with claymation balls of clay, and 2D flowers and ghosts. However, the animations of the 2D characters became slightly more jerky and generally cartoony than the first episodes' more lifelike motions. Gumball's body also changes in form slightly, with his fangs rounded and his eyes slightly smaller than before, All of which changed by the first season finale, as the animations in the last two episodes seemed less jerky and more lifelike, along with Gumball's fangs being sharp again and his eyes being bigger. Also, unlike most cartoons, it uses backgrounds from the real world, due to the reason that the creator worked on commercials for the UK before creating the show, learning how to give a realistic feeling to the background.
International
Censorship
Main article: Censorship of The Amazing World of Gumball
Broadcast
Country
Channel
Title
Language
Premiere date
United States
Cartoon Network
The Amazing World of Gumball
English
May 9, 2011
Boomerang
December 1, 2014
United Kingdom & Ireland

Cartoon Network

September 5, 2011
Canada
Cartoon Network
July 4, 2012
Teletoon
September 8, 2012
Latin America
Cartoon Network
El Increíble Mundo de Gumball
Spanish
September 4, 2011
Brazil
Cartoon Network
O Incrível Mundo de Gumball
Portuguese
SBT
October 14, 2011
Sweden
Cartoon Network
Gumballs Fantastiska Värld
Swedish
September 5, 2011
Denmark
Gumballs Fantastiske Verden
Danish
Norway
Norwegian
Iceland
Undraveröld Gúnda
Icelandic
Finland
Gumballin mieletön maailma
Finnish
France
Cartoon Network
Le Monde Incroyable de Gumball
French
September 3, 2011
France 3 (September 5, 2012 - 2013)
September 5, 2012
Gulli
December 24, 2016
Spain
Boing (September 11, 2011-present)
El Asombroso Mundo de Gumball
Spanish
September 11, 2011
Cartoon Network (September 11, 2011-June 30, 2013)
ETB 3
Gumballen mundu harrigarria
Basque
January 1, 2015
Italy
Cartoon Network
Lo straordinario mondo di Gumball
Italian
September 2, 2011
Boing
December 23, 2011
Germany
ZDF
Die fantastische Welt von Gumball
German
September 1, 2012
Nickelodeon
September 5, 2016
KiKa
September 18, 2011
Cartoon Network
Austria
ORF eins
January 21, 2013
Romania
Cartoon Network
Uimitoarea lume a lui Gumball
Romanian
November 8, 2011
Hungary
Gumball csodálatos világa
Hungarian
Russia
Удивительный мир Гамбола
Russian
Poland
Niesamowity świat Gumballa
Polish
Netherlands
Cartoon Network
De Wonderlijke Wereld van Gumball
Dutch
November 9, 2011
Greece
Cartoon Network
The Amazing World of Gumball
English
Australia
Cartoon Network
The Amazing World of Gumball
English
October 1, 2011
Taiwan
Cartoon Network
阿甘妙世界
Taiwanese Mandarin
India
Cartoon Network
The Amazing World of Gumball
English
Pakistan
Cartoon Network
Southeast Asia
Cartoon Network
Philippines
Cartoon Network
TV5
Filipino
March 10, 2013

Arab countries

Cartoon Network and Spacetoon
عالم غامبول المدهش
Arabic
October 6, 2011
South Korea
Cartoon Network
검볼
Korean
Israel
Arutz HaYeladim
העולם המופלא של גאמבול
Hebrew
July 2012
Portugal
Cartoon Network
O Incrível Mundo de Gumball
Portuguese
December 3, 2013

Japan

Cartoon Network
おかしなガムボール
Japanese
November 12, 2011

Bulgaria

Cartoon Network
Невероятният свят на Гъмбол
Bulgarian
April 1, 2012

Thailand

Cartoon Network
โลกสุดอัศจรรย์ของกัมบอล
Thai
Turkey
Cartoon Network
Gumball'un Muhteşem Dünyası
Turkish
November 1, 2011
Zarok TV
Gumball
Kurdish
March 21, 2015

Georgia

გამბოლის გასაოცარი სამყარო
Georgian
Cast
Season 1
Season 2
Season 3
Season 4
Season 5
Season 6
References in popular culture
Television series
Show
Episode
Characters
Description
Image
Teen Titans Go!
"Squash & Stretch"
Gumball
Darwin
Gumball and Darwin appear in a Wile E. Coyote and The Road Runner styled cartoon on the Titans' television. Darwin's appearance has purple skin with red shoes and Gumball's appearance has green fur and a red sweater.
Uncle Grandpa
"The Grampies" (a short from "Pizza Eve")
Gumball
Gumball appears as an audience member watching the Grampies awards. Gumball's appearance is animated in hand-drawn animation with the oval eyes used in Season 2; his eyelids are different than in the current series' design.
South Park
"The End of Serialization as We Know It"
N/A
Sheila uses TrollTrace to look up Ike's internet history; the Google search title "amazing world of Gumball streaming" appears in the list.
Jimmy Kimmel Live!
N/A
Gumball
Darwin
Bobert
Cody
The segment Unnecessary Censorship features a clip from "The Upgrade" showing Gumball touching Cody's ponytail. The word "Ponytail" was bleeped to make it sound like a profane word was censored.
OK K.O.! Let's Be Heroes
"Crossover Nexus"
Gumball (formed by Ben Tennyson)
Ben uses his Omnitrix, reconfigured by K.O., to transform into various Cartoon Network characters to defeat Red Strike. One of his forms includes Gumball Watterson.
Books
Title
Characters
Description
Image
The Boy Who Could Do What He Liked
Gumball
Darwin
Alfie, the main protagonist of the book, goes into an episode of the show with Gumball and Darwin.
Miscellaneous
Title
Characters
Description
Image
MAD
Gumball
Darwin
Penny
Masami
Molly
The show is mentioned in a column discussing the problems modern cartoons have caused. It claims that Gumball has caused children to become racist against the Swedish.
AT&T
Gumball
Gumball appears in the AT&T commercials with Mark Wahlberg, who calls him "kids' show thing."
Trivia
The Amazing World of Gumball was originally titled Gumball only, even before Gumball Watterson was the main character or created.
While the concept for the show had been around since 2007, production on the show did not officially begin until 2009.
The Amazing World of Gumball was named "Cartoon Network's first original series to be animated in the UK," being produced by Dandelion Studios from season 1. Its world premiere was in the United States and its first sneak peek in the United Kingdom.
The show was renewed for a second season before it even premiered.
It was originally supposed to be about rejected cartoon characters attending a remedial school.
The series changed air dates from Monday to Tuesday to accompany Level Up in America and Europe. Then, the show moved to Wednesdays since all the time slots were taken on Tuesdays. However, it went back to Tuesdays towards the end of season 2, only to be moved to Thursdays starting in season 3.
Every episode has had the word "the" in its name except for two episodes, "Halloween" and "Christmas." Both are holiday specials.

This is not the case in Japan, where the episode names are changed to be similar to the names of episodes from anime series in Japan.

All episodes are ten to eleven minutes long. There have been no half-hour specials, though "The Origins" and "The Origins: Part Two" add up to almost thirty minutes, and another two-parter that forms a half-hour special in total exists, comprised of the season 4 finale, "The Disaster," and the first season 5 episode, "The Rerun."
"The Man" is the hundredth episode of the series.
In Season 2, the Wattersons' eyelids are darker when they close their eyes.
In Season 3 and onwards, the Wattersons' eyes are permanently round, except for a few episodes where Richard and sometimes the rest of the family still have oval eyes.
The show is rated TV-Y7 with fantasy violence in the United States.
Several episodes featured guest animators like CRCR, Monteblanc Pictures Co. LTD., Studio•4C, and Simon Landrein.
There is an episode featuring parodied versions of the Miracle Star cast in Season 5 known as "The Copycats."
Contrary to rumors, Ben Bocquelet never actually pitched the show to Adult Swim.[2]
It takes about one year to produce an episode and about 26 are worked on at the same time.
On December 1st, 2017, writing for the series officially concluded.[3]
The Amazing World of Gumball is featured on Code.org as a play lab.
The Amazing World of Gumball is available for streaming on HBO Max.
References