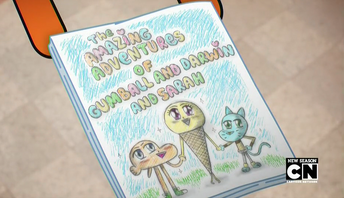 The Amazing Adventures of Gumball and Darwin and Sarah is a fan book made by Sarah. It shows all the events Sarah planned out in the episode, "The Fan," since she is a huge fan of Gumball and Darwin. Later, Gumball throws the piece into a fan, which shreds it to pieces.
Pages
First page
The first page depicts Sarah, Gumball, and Darwin in front of the Rainbow Factory seconds before its destruction in the explosion that the boys caused.
Second page
The second page depicts Gumball, Darwin, Sarah, and Tina in the cafeteria at lunch.
Third page
The third page depicts Gumball and Darwin watching the "Stalker Song."
Fourth page
The fourth page depicts Gumball, Darwin, and Sarah after the boys tell her to leave them alone.
Fifth page
The fifth page depicts Gumball and Darwin fighting for Sarah.
Sixth page
The sixth page depicts Gumball shirtless, revealing his abs.
Seventh page
The seventh and final page depicts Gumball and Darwin falling with Sarah watching. Written below is "Like fallen angels they plumetted [sic] from the skies..."
Gallery
Trivia
The entire book is done in the style of manga, used in Japanese comics.
Community content is available under
CC-BY-SA
unless otherwise noted.