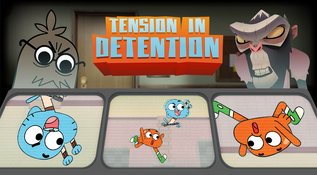 Tension in Detention is an online game based on The Amazing World of Gumball. It is developed by Killabunnies and produced by Cartoon Network. It was released on September 14th, 2015.
Gameplay
The player (as Gumball or Darwin) must break out of detention, collecting three stars in each level while platforming through the Elmore Junior High hallway as Miss Simian and Principal Brown watch the character over the surveillance system. The player can take advantage of the camera frames by using them to teleport into the opposite camera. When the character reaches the door, they must press the spacebar to advance to the next level. Obstacles such as spikes and patrolling robots appear as the player advances through the levels, as well as more complex puzzles (such as anti-gravity puzzles).
Storyline
Gumball and Darwin get framed for stealing Miss Simian's cake and get sent to detention. Feeling uncomfortable amongst the bullies and delinquents of Elmore Junior High, and having tickets for the new Galactic Wars movie, they decide to try to break out.
Cast
Playable
Non-playable
Enemies
Locations
Trivia
In the game, Gumball and Darwin break out of detention to go see a movie called Galactic Wars, an obvious reference to the Star Wars franchise.
Banana Joe is the only character to appear in his season 1 design.
Goofs/Errors
In the starting scenes, When Principal Brown says "excellent" it is misspelled as "excelent."
In some international Cartoon Network sites, Gumball does not appear.
Gallery
External links
Community content is available under
CC-BY-SA
unless otherwise noted.