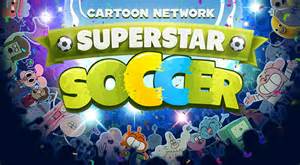 Superstar Soccer is a crossover game by Cartoon Network. It is a fast-paced online soccer game starring characters from Adventure Time, Regular Show, The Amazing World of Gumball, and Ben 10. This game was released for PC with Unity Web Player, and for mobile devices for $2.99 USD on the Amazon App Store, iTunes, and Google Play stores. Although paid, the mobile version gives the player one more character to choose from each team, giving each team two characters to choose from.
Gameplay
Play as Finn, Mordecai, Gumball, or Ben 10, and use your character's special strengths to crush the competition. Choose your team captain, choose your country, and hit the field in single or multiplayer mode. Score the most goals and work your way up to win the Championship Cup.
Each team has a team leader, along with three Toonix teammates dressed as a team leader, and a goalie. Pass the ball between you and your teammates and score into the opponent's goal.
PC
The browser game has two modes: singleplayer and multiplayer. Upon choosing either of these options, the player has to choose the country that they want to represent. After their selected country is chosen, the player can choose from four teams—
The Amazing World of Gumball
,
Adventure Time
,
Ben 10: Omniverse
, and
Regular Show
. In singleplayer, the team chosen will play against the three other teams that weren't chosen, each game lasting three minutes. After defeating each team, the player will be awarded with a badge.
Mobile
The mobile counterpart only has singleplayer, and lacks the option to choose a country. However, the mobile version does feature the same teams as the PC version, with an additional team leader to choose from. After the team has been selected, the same format of games, with the selected team playing against the non chosen teams, each lasting three minutes. When the player beats all three other teams,a "Congratulations" screen will show along with the chosen team's emblem. No badges or prizes are given.
Controls
PC
The game uses the control scheme of the keyboard. The arrow keys and WASD are used to move, Z is used to shoot and tackle, and X to pass and switch teammates.   
Mobile
The game follows a simple joystick control scheme to move the character, with an A button and B button. A is used for passing and switching teammates, while B is used for shooting and tackling other players. 
Cast
Gumball characters
Playable
Non-playable
Cartoon Network characters
Badges
Trivia
External links
Community content is available under
CC-BY-SA
unless otherwise noted.