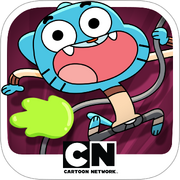 Super Slime Blitz is a game for iOS and Android devices. It was released on October 6th, 2016.[1]
Plot
There's a new gameshow in Elmore that involves surviving a slime covered obstacle course, and Gumball has been chosen to participate in it.
Gameplay
The player controls one of thirty characters available (if the player has unlocked them) in endless climber-style gameplay. Tapping left or right on the player's device's screen causes the player's character to jump to the next block in that direction. The player gets rid of blocks in the way by tapping to destroy them. The more crystals there are on any given block, the slower this process will be. This continues until the player reaches the button that will take them to the next stage.
As the game progresses, the stages become increasingly difficult, adding in more projectiles, spike blocks, and laser blocks to make the climb harder. If the player touches any of these hazards or does not climb as the screen scrolls, they lose their only life. Sometimes the player can choose if they want to watch an advertisement to continue or not.
Along the way, the player can encounter keys that can be used to open secret doors. Usually inside these doors lie several coins (which can also be found on the outside). These coins can be used out of gameplay to buy more characters, boosters that add extra effects during gameplay, or trails that follow the direction a character goes.
Levels
Mount Frostbite
Slime Slopes
The Face Melter
Laser Base X
Cast
Playable
Non-playable
Gallery
Reception
Super Slime Blitz has been well received, holding 4.5/5 stars on its iOS reviews.
Trivia
References
Community content is available under
CC-BY-SA
unless otherwise noted.