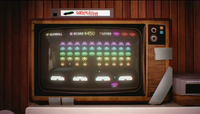 Space Invaders is a video game in The Amazing World of Gumball. It has been seen in many episodes, and acted as a minor plot device in "The Phone," where Darwin abandons Gumball at a crucial moment to answer his phone.
Gameplay
Space Invaders is a two dimensional fixed-shooter game. The player controls a small purple ship at the bottom of the screen, which is only capable of moving horizontally and firing straight up at descending aliens. The object of the game is to eliminate all of said aliens before they reach the bottom of the screen. Points are awarded for each alien ship killed. As the alien army gets smaller, the remaining ships get faster. The aliens are also capable of shooting back at the player's ship; to protect from this, four walls are available for the player to hide behind, though if these take too many hits, they will get destroyed. 
There is also a final boss at the end of the game: a huge ship, taking up most of the upper half of the screen. If the player is not quick enough, it will fire a huge beam that will wipe the player out regardless of where they are on the screen.
Trivia
This game is a recolored parody of Space Invaders, a classic arcade game. 
In the real life version of Space Invaders, there is no boss at the end, and combos cannot be performed.
Community content is available under
CC-BY-SA
unless otherwise noted.