Wiki Targeted (Entertainment)
Play Sound
Siciliana Pepperoni
Character Information
Color Scheme
pizza
cloth
eye
lips

none
Siciliana Pepperoni is a minor character in The Amazing World of Gumball. Her first appearance was in "The Job."
Appearance
Siciliana is an anthropomorphic pepperoni pizza (it being mostly her head) with a body attached. She wears a long red dress, a matching bow on the left side of her head, and what seem to be red pumps. She also has big cheeks.
Personality
As shown in "The Job," Siciliana is rather soppy, gushing over the pizza she is brought when she thinks it is a baby.
"The Understanding" portrays her at first as a friendly, kindly, relatively ordinary mother and wife to Peter and Quattro, respectively. Not so ordinary are her radical anarchistic beliefs: she despises the government, in large part due to their laws on homeschooling resulting in her son's speech impediment, and will do whatever it takes to sabotage it. It is also shown that she is a believer in the Flat Earth theory. In the episode, it is also revealed that Siciliana and her family are bank robbers.
Episode Appearances
Season 2
Season 3
Season 4
Season 5
Season 6
Gallery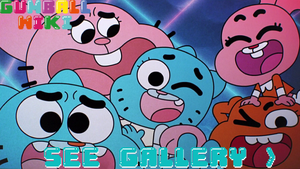 Click here to view the gallery.
Quotes
"

Gumball: [Gumball rings the doorbell, Quattro opens the door] What?
Q

u

a

t

t

r

o

: [Gasps] Siciliana, come see what the stork brought us!

[Rushing footsteps, Siciliana appears at the door]

S

i

c

i

l

i

a

n

a

: [Gushing] Oh look, he's got his father's eyes! Oh, he's beautiful.
Q

u

a

t

t

r

o

: Thank you so much. Here's a twenty.

"
—Siciliana in "The Job"
Trivia