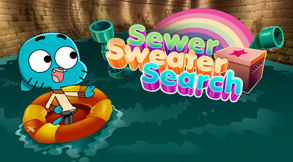 Sewer Sweater Search is an online game based off The Amazing World of Gumball. It is developed by Chimango Games and produced by Cartoon Network. It was released on August 3, 2015.
Gameplay
Use Bobert's mechanical arm to slingshot your way around the sewers of Elmore. Collect coins and retrieve a box full of new sweaters!
Storyline
Gumball rips his sweater at school, and Darwin remembers that their dad left a box full of sweaters in the sewers. To retreive them, Bobert gives the two his arm to navigate through the sewers.
Cast
Playable
Non-playable
Enemies
Locations
Trivia
Gumball appears in his Season 2 design in-game while Darwin is in his Season 1 design.
The game is possibly a reference to a quote in "The Date".
Goofs/Errors
When Bobert at the beginning is giving Gumball one of his arms, the word command is misspelled as "Comand."
Gallery
External Links