Sal Left Thumb
Character Information
Sal Left Thumb
is a recurring character in
The Amazing World of Gumball
. He is a very dangerous criminal, with a large bounty on him. He made his first physical appearance in "
The Spoon
," where he was the main antagonist.
Appearance
Early concept
He was originally a student of Elmore Junior High, as seen in early production art; he looked more realistic and had neither bandanna nor arms.
Final design
Sal Left Thumb resembles an over-sized, sentient fingerprint. He usually is seen wearing a domino mask, likely to keep his identity a secret. His limbs are very long and skinny, and are rather small compared to the rest of his body. He possesses the ability to flatten himself on the ground, and appear as a regular fingerprint, which, besides the fact that the police are somewhat irresponsible, is possibly the reason why he is hard to catch.
Personality
Sal Left Thumb is a dangerous and infamous criminal in Elmore. As such, he has a very abrasive personality - he is more than willing to harm, or at least threaten, anyone and everyone that gets in the way of his criminal activities. He often taunts his victims, such as when he sarcastically told Gumball and Darwin that he was a charity worker accepting donations, when he was clearly robbing the store, or how he calls everyone a "sucker" when they fall for his tricks. He has been like this since he was a kid, because he used to laugh at Richard's "Cottontail Cavalier" costume. However, in "The Boredom," it was revealed he wanted to be a singer when he was young, but he was never successful and turned to crime.
Episode appearances
Season 1
Season 2
Season 3
Season 4
"The Night": He appears on a poster in the gas station.
Season 5
Season 6
Gallery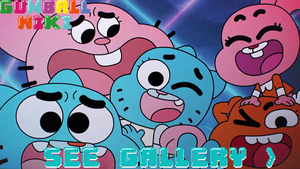 Click here to view the gallery.
Trivia
He went to Elmore Junior High with Richard, Mr. Small, Patrick, and Nicole.
According to a wanted poster in "The Spoon," he has a bounty of $25. A wanted poster of him was also seen in "The Kiss," "The Pizza," and "The Future."
Despite his dangerous nature, his preferred weapon for robbing is a simple, dirty spoon, which scares only a few people (namely Larry, Gumball, Darwin, and Richard.)
He makes a cameo appearance in School House Rush, on the title screen background underneath Darwin's arm. He is in his prototype student design: he is not wearing his usual domino mask and lacks arms.
His song in "The Boredom" reveals he wanted to pursue a career in music, but turned to crime because he was rejected by the producers.

The end of the song also reveals that Sal cannot sing anyway.
Community content is available under
CC-BY-SA
unless otherwise noted.