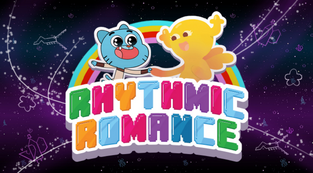 Rhythmic Romance is an online game based on The Amazing World of Gumball. It was released on March 13th, 2017.
Storyline
Love is in the air! Guide a besotted Gumball and Penny along the path of love, tapping out a smooth rhythm with your left mouse button to keep them on course. If you miss a beat their love will flounder, but if you keep up with the tune it will flourish. It's in your hands – no pressure!
Gameplay
The player takes control of Gumball and/or Penny, depending on whose turn it is to move. Whenever Gumball or Penny move, the player must click the left mouse button when they land on one of the colored tiles. If the button is not pressed, or if it is pressed at the wrong time, Gumball and Penny plummet offscreen and the game is over. If the player does not miss, they will continue to move. After five levels, the game is then beaten.
Cast
Gallery
External Links
Community content is available under
CC-BY-SA
unless otherwise noted.