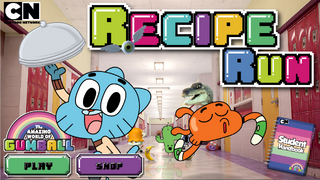 Recipe Run is an online game based on The Amazing World of Gumball. It is exclusive to CN Asia Pacific.
Plot
Gumball and Darwin have made another infamous dish for Anais to try and the rest of the campus seems out to stop him! Leap, duck, and dash your way through the school corridors and collect every weird and wacky new ingredient you can for the perfect zaniest plate. But keep an eye on the crowd meter, or your run might end too soon!
Gameplay
As the player chases Anais through the hallway, there are several different obstacles to look out for. Most are classmates that happen to be in the hallway. Gumball must either jump or duck to dodge them, depending on how high the obstacle is (jump if the obstacle is on the ground, duck if it is flying at him in midair). To jump, the player must click and drag the mouse up. To duck and slide, the player must click and drag the mouse down. In addition to this, Darwin may be tagged in every once in a while. Calling him in provides temporary immunity to obstacles. Gumball may still jump to collect food items that are in mid air.
Failing to avoid an obstacle results in Gumball staggering for a second, allowing time for the angry mob behind him to catch up. Ducking also slows down Gumball, letting the mob catch up to him. If the mob reaches Gumball, they suck him in, and the game ends.
Also in the hallway are additional ingredients that can be added into Gumball's tray. The added ingredients give more points, and different responses from Anais. There are eight categories of food items: corn, meat, fish, sandal, shoe, soda, potato, and bread. Collecting ten of each of these items total amongst all games played will result in a random shop item being unlocked.
Shop
Accessible from the main menu is the shop, which brings the player Rocky's store that sells power-ups and other characters to be used in the game. The power-ups can be bought using the CN Site currency and it is a one-time use and must be bought again the next time while purchasing characters will add obstacles in the game.
R​ewards
The ingredients collected throughout the game can be used to redeem random rewards in the Ingredients section of the Student Handbook. The reward can be redeemed once the player has ten of all collectable ingredients, whereupon a white lunch box contaning the reward will appear.
Cast
Playable
Non-playable
Obstacles
Badges
NOTE: Badges can only be earned on the Cartoon Network Asia Pacific websites, and the player must have an account and be logged in to claim them.
That's A Bit of Corny - Collect ten corn cobs for your dish.
Soda so Good - Collect five soda drinks for your dish.
Sandalgood - Collect twenty-four sandals for your dish.
Meet You Again Soon - Collect ten chunks of meat for your dish.
Pick a Potato - Collect fifteen potatoes for your dish.
Shoe Use a Bit More Flavor - Collect seven shoes for your dish.
Something Fishy - Collect twelve fishes for your dish.
Bread Winner - Collect seventeen slices of bread for your dish.
Quiet Time - Avoid losing Mob Meter in one minute.
Bad Unlucky Day - Getting tackled within the first minute of the game play.
Jumping for Joy - Jump a total of fifty times.
Jumping Overjoyed - Jump for a total of one hundred times.
Duck like a Duck - Duck a total of fifty times.
Duck defying - Duck for a total of one hundred times.
Go the Distance - Ran for a total of fifty feet.
Go the Journey - Ran one thousand feet.
Go the Miles - Ran five thousand, two hundred, and eighty feet.
Reach the Moon - Ran for a total of one billion, two hundred and sixty-one million, one hundred and fifty thousand feet.
I can do this alone! - Reach one minute of gameplay without using Darwin.
Avoid Jamie! - Ducked from Jamie five times.
Avoid Banana Joe! - Jumped over Banana Joe five times.
Avoid Leslie! - Jumped over Leslie five times.
Avoid William! - Avoid William five times.
Avoid Bobert! - Jump to avoid Bobert five times.
Avoid Clayton! - Ducked to avoid Clayton five times.
Unlocked a Classmate - Unlocked either Hector, Carmen, Tina, Idaho, Tobias, Ocho, or Carrie.
Look out, it's Hector! - Ducked to avoid Hector five times.
Look out, it's Carmen! - Jumped over Carmen five times.
Look out, it's Tina! - Ducked to avoid Tina's bite five times.
Look out, it's Idaho! - Ducked to avoid Idaho five times.
Look out, it's Tobias! - Ducked to avoid Tobias five times.
Look out, it's Ocho! - Jumped to avoid Ocho five times.
Look out, it's Carrie! - Ducked to avoid Carrie five times.
The Class is Against You - Get struck by every character at least once.
Simplest Dish Ever - Ended game without collecting any additional ingredients.
Ducking Escaped - Avoid getting by the mob by an inch while ducking.
Gallery
Trivia
This is the first Gumball PC game where one can purchase upgrades using out-of-game currency. This currency is called CN Beans, which are earned from playing other games and activities on the site.
The idea for this game seems to be based on the scene in "The Responsible," where Gumball and Darwin make Anais a disgusting meal. Many of the items they used for this meal can be seen, such as the shoe, the potato, and the mackerel. 
The badges mention a Carrie and Ocho obstacle, however, neither character can be seen, in the shop or in the game.
This game has more badges than any other Gumball game, with a total of forty-two badges.
The game became available on the iTunes app store on February 24th, 2013.
The iTunes version uses a virtual currency called CN Coins to purchase the characters and upgrades.
Goofs/Errors
If characters are obstacles and the mob comes some characters appear twice.
External links
Community content is available under
CC-BY-SA
unless otherwise noted.