"They were clearly missing something." "You notice it too?"
This article is a stub. Please help the Gumball Wiki by expanding it.
Thank you!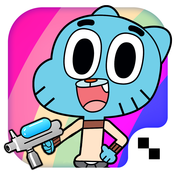 Rainbow Ruckus is a game for iOS and Android devices. It was released on April 15th, 2015 in Great Britain and several other countries. At this time, it is not available in the United States.
Plot
The citizens of Elmore, including the Watterson children, are enjoying a nice and sunny day and the rainbow. When Jealousy appears, he takes possession of the citizens, makes them destroy the rainbow and carry the pieces down to his lair in the sewer. The Watterson children look on.
Gumball and Darwin set out to foil Jealousy's plan and save the rainbow. They arm themselves with a paintball gun and a hammer respectively, and head into the sewer, leaving Anais behind.
Gameplay
TBA
Cast
Playable
Non-playable
Enemies
Power-Ups
TBA
Achievements
TBA
Gallery
Trivia
External Links
Community content is available under
CC-BY-SA
unless otherwise noted.