Wiki Targeted (Entertainment)
Play Sound
Quattro Pepperoni
Character Information
Color Scheme
pizza
cloth
eye
lips

none
Quattro Pepperoni is a minor character in The Amazing World of Gumball. His first appearance was in "The Job."
Appearance
Quattro is an anthropomorphic pepperoni pizza (it being mostly his head) with a body attached. He wears a steel blue job outfit, along with a sailor's cap.
Personality
Quattro is highly protective of his family, as he punches Tony when the latter "kisses" his wife Siciliana. Overall, his usual method of resolving problems appears to be violence, as he also attacks the Pentagon Father and drives recklessly after breaking into the town hall. Despite this, he is shown to be quite generous, as he gives Gumball and Darwin twenty dollars for delivering a pizza, in spite of the fact that this is almost twice as much as he needed to pay.
However, "The Understanding" portrays him as a kindly, relatively ordinary father and husband to Peter and Siciliana, respectively. Not so ordinary are his radical anarchistic beliefs: he despises the government, in large part due to their laws on homeschooling resulting in his son's speech impediment, and will do whatever it takes to sabotage it.
Episode Appearances
Season 2
Season 3
Season 4
Season 5
Season 6
Comics
Gallery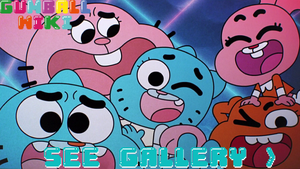 Click here to view the gallery.
Quotes
"

Gumball: [Gumball rings the doorbell, Quattro opens the door] What?
Quattro: [gasps] Siciliana, come see what the stork brought us!
[Rushing footsteps, Siciliana appears at the door]
Siciliana: [gushing] Oh look, he's got his father's eyes! Oh he's beautiful.
Quattro: Thank you so much. Here's a twenty.

"
—Quattro in "The Job"
"

Richard: Well, I think we've pretty much ticked off the whole town.
Quattro: They dropped our baby!
Julius: They blew up my head!
Santa Claus: They ran me over!

"
—Quattro in "The Finale"
Trivia
References