"They were clearly missing something." "You notice it too?"
This article is a stub. Please help the Gumball Wiki by expanding it.
Thank you!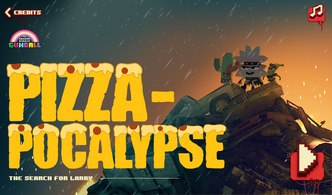 Pizza-Pocalypse is an online game based on The Amazing World of Gumball. It was developed by Purple Tree Games and produced by Cartoon Network. It was released on February 29th, 2016.
Storyline
Larry quits all the jobs in Elmore, causing the town to riot with panic and chaos. It is up to the Wattersons to stop the apocalypse and save the town.
Gameplay
The player can choose from three modes: Story, Versus, and Challenge.
Story
The player controls Gumball, Darwin, Richard, and Anais, (the latter two act as one character) with each character taking turns to perform an action. The characters can choose from a range of weapons, which are toggled through by pressing the "Q" key. The first three weapons are Clayton in bazooka form, a fireball, and a paintball gun. Clayton can fire himself at an opponent, and the player is able to charge him up, altering the distance he flies. When he hits the opponent, he explodes, launching the opponent and dealing damage. However, if the player is too close to the opponent, the explosion will launch and damage them too. The fireball is useless from a distance, but if the player is close to the opponent, the character shoots up a fireball, taking the opponent up. This does massive damage and launches the opponent. The paintball gun can fire up to four fast-moving shots. These shots do not making a large explosion and thus deal no damage to terrain, instead leaving a paint splatter. In the first level, only Gumball and Darwin are playable, with Richard and Anais becoming available in the second level.
Characters
Playable
Non-playable
Enemies
Weapons
Locations
Gallery
Trivia
This game is based off the episode "The Pizza."
The gameplay is similar to the popular gaming franchise Worms.
In the countries outside of the US, the game is called Pizzageddon for unknown reasons.
Carmen's face paint is similar to that of her father's in "The Pizza."
External links
Community content is available under
CC-BY-SA
unless otherwise noted.