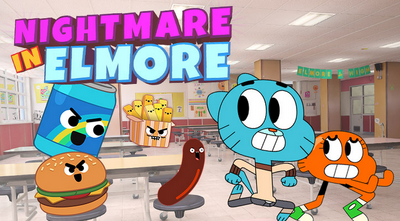 Nightmare in Elmore is an online game based on The Amazing World of Gumball. It seems to be based on the objects from "The World."
Gameplay
Gumball, Anais, and Darwin are forced to eat Richard's cooking. This results in Gumball having nightmares, and thus, the game begins. The player takes control of Gumball, which can be controlled by using the left and right arrow keys. The main objective in the game is to defeat all of the food bosses while helping friends and collecting power-ups along the way. There are a few obstacles that will show up during the game. The main obstacle is a dog, who can be defeated by clicking on it (the player may have to click multiple times depending on the size of the dog), and then jump on its belly. Later in the game, bacteria will appear too. Like the dog, the player have to just click on it so as to defeat it. Throughout the game, by picking up the little suns, it will be added towards the player's score. The player also get to meet friends and get to help them throughout the game, such as Carmen needing the player to deliver a letter to Alan, Penny to search for her dad's hard hat, Carrie to find her diary, Tobias to find his four spare headbands, and Masami to find a very sad rainbow. The player is provided with a quest book to help keep track of the quests and progress on them.
Cast
Playable
Obstacles
Bosses
Quest characters
Badges
TBA
Gallery
Trivia
External links
Community content is available under
CC-BY-SA
unless otherwise noted.