She-Hulk Trailer Dropped - The Loop
Play Sound
Mrs. Jötunheim
Character Information
Color Scheme
Skin
Shirt
Hair
Nose
Mrs. Jötunheim is a recurring character in The Amazing World of Gumball. Her first appearance was in "The Colossus." She is Hector's mother, despite not resembling her son.
Appearance
Mrs. Jötunheim is a short, elderly-looking woman. Her skin is green and wrinkled, and her gray hair is held up in a bun. She has a large, lavender nose, and slightly pale lips with two blunt teeth sticking up out of her bottom lip. Her left eye is shown to have a yellow iris. She wears a purple dress and two rows of golden bangles on both of her arms. Along with her sagging breasts, her body is shown to be very short in stature, as both Gumball and Darwin are taller than her.
Personality
Behind her superficially grumpy manner and the fact that she is a witch, Mrs. Jötunheim is shown to not have malicious intentions and preserves mature principles. For example, when the troll is released from the Door of Forbidden Secrets, Mrs. Jötunheim guides Gumball's effort in defeating the Troll and lends him some magic powers, as well as a wand. In "The Potion," Mrs. Jötunheim refuses to shrink Hector into normal size, out of the idea that "no potion will make you accept who you are."
Mrs. Jötunheim is very protective of her son, choosing what movies he should watch and what comics he should read. In "The Colossus," it is later revealed that she has a very good reason for doing so, since, as she later explains to Gumball and Darwin, literally everything about a giant is big, including their emotion— as a result, they have to be kept as calm as possible. She initially has a confrontational attitude towards Gumball and Darwin but does not seem to blame them when Hector begins destroying the town (even though it was at least partially their fault).
Episode appearances
Season 2
Season 3
Season 4
Season 5
Season 6
Gallery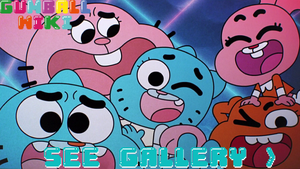 Click here to view the gallery.
Trivia