Molly's treehouse is a minor location in The Amazing World of Gumball. It is located in Molly's backyard, and it is where the Treehouse Girls used to hang out. It was built by Molly, but no other helpers are named. Masami severely dislikes the treehouse, criticizing it whenever she has a chance to. It is unknown whether it was rebuilt after the events of "The Pressure," where Tobias and Banana Joe chopped down the treehouse; it could have been rebuilt, as it was seen completely intact in the Void. The treehouse currently resides in the aforementioned place.
Episode Appearances
Season 1
Season 3
Inside the Treehouse
Molly's treehouse only has two rooms: a restroom, which is just a hole in the floor, and a living room where all the girls (and Leslie) hang out. There is one window and only one entrance. There are also posters of various designs posted on the walls of the treehouse.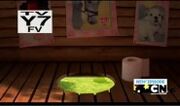 Trivia
It appears that, based on the dialogue in the beginning of "The Pressure," Molly had just finished building the treehouse.
The window can also be used as an emergency escape door, as shown in "The Pressure."
Community content is available under
CC-BY-SA
unless otherwise noted.