Marvin Finklehimer
Character Information
Color Scheme
Skin
Hat
Gums
other

none
Marvin "Bert" Finklehimer is a recurring character in The Amazing World of Gumball. He is an elderly man who is occasionally seen around Elmore.
Appearance
He is a short, round, and red bean-like figure. He wears a little brown hat and walks with a cane. He also has only three teeth and overly large eyes with brown pupils. Because of his old age, his face is very wrinkly, and his limbs are shaky and flimsy.
Personality
Marvin is usually seen with the rest of his friends, the senior citizens. He seems to be quite energetic for an old man, as he is seen teasing Anais with a biscuit in "The Responsible." However, he is also quite frail at other times, as most elderly people are. He can also be quite stubborn, as shown in "The Watch."
Marvin, being a senior citizen, suffers from a lack of attention from younger generations due to the age of technology. This is evident in "The Intelligence," where he described technology preventing younger generations from listening to the stories of elders, in which he tried to prevent Gumball and Darwin from escaping to find the Internet.
Marvin is quite flirtatious, as he goes on a date with the hexagon lady in "The Watch" and flirts with her in "The Tag." He also offers to go on a date with Karen in "The Butterfly."
Episode appearances
Season 1
Season 2
Season 3
Season 4
Season 5
Season 6
Voice actors
Dan Russell (United States, United Kingdom)
Waldir Fiori † (Brazil, season 1)
André Belizar (Brazil, season 2 onwards)
Gallery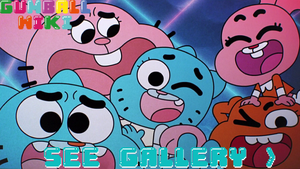 Click here to view the gallery.
Trivia
Community content is available under
CC-BY-SA
unless otherwise noted.