Wiki Targeted (Entertainment)
Play Sound
Louie Watterson
Character Information
Louie Watterson (né Carter) is a recurring character in The Amazing World of Gumball. He is the stepfather of Richard, the paternal stepgrandfather of Gumball, Darwin, and Anais, stepfather-in-law to Nicole, and is the boyfriend and later husband of Richard's mother, Joanna. He made his first appearance in "The Debt" at the Elmore senior talent show. From "The Man" up until "The Signature," Granny Jojo is his girlfriend. As of "The Signature," Granny Jojo and he are husband and wife. He is a former member of the senior citizens.
Appearance
Louie is a black mouse with white paws, large round ears, and a big, dark gray nose. He has several wrinkles around his eyes, indicating his old age. In "The Man," his nose becomes black, he becomes bigger, his mouth disappears, his outlines and limbs become thinner, his head is attached to his body, he loses the white marks on his ears, his wrinkles become more rounded, and his feet are more straight.
Personality
Louie seems to be patient and very calm, as shown in "The Man," where he endures Richard shouting at him, and even preventing him from seeing Granny Jojo. Later on, he even tries to settle an argument with Richard "by sitting down, and having a calm, reasonable conversation." He displays extreme self-control despite Richard's provocation. He has a very kind demeanor with his new grandkids and he hopes to be a welcome member of the Watterson family.
In "The Signature" and "The Catfish," it is shown that Louie does have his limits, deciding to beat Richard at his own game when he tries to stop him from marrying Jojo and reprimanding Gumball and Darwin when their trickery caused a fight between him and Jojo. Louie can be very talkative—he chats for hours over the phone with "Muriel" about his life-story—and he is shown to be a romantic, waxing flowery terms about his relationship with Jojo. He has also developed a fear of Granny Jojo after becoming aware of how violent and controlling she can be, preventing him from looking at other women and cutting him off from all his old friends.
Episode appearances
Season 1
Season 2
Season 3
Season 4
Season 5
Season 6
Gallery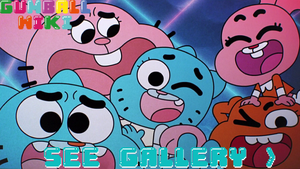 Click here to view the gallery.
Trivia