Logan Parker Grove (born July 24, 1998) is an American former child actor and voice actor. He was the voice actor of Gumball Watterson from Season 1 to Season 2. He has been replaced by Jacob Hopkins in Season 3, due to his maturing voice. His last episode, "The Kids," was recorded on August 29, 2013.[1]
After finishing with Gumball, he has seemingly quit acting and became an athlete in Agoura High School, as revealed on his Twitter. He pursued to become a navy officer, as revealed on Hopkins' Twitter in February 2018 when he, Logan, and Nicolas Cantu met up for a reunion.[2]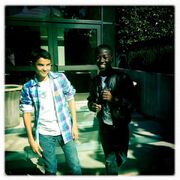 Filmography
2005
Untold Stories of the ER (Michael Lanosa)
Medium (Justin Church)
2006
Christmas Do-Over (Ben)
Arc (Christopher Blake)
The Angriest Man in Suburbia (Trevor)
ER (Dickie, 1 episode)
The Suite Life of Zack & Cody (Johnny, 1 episode)
2007
1321 Clover (Tyler Tuttle)
Mr. Woodcock (child)
CSI: Miami (Arthur Royce, 1 episode)
Arwin! (Jason)
2008
Lower Learning (Nickleby)
Fields Far Away (Dave)
What Just Happened (Max)
2009
Opposite Day (kid photographer)
Diary of a Single Mom (J.J, 2009-2010, 16 episodes)
2010
Paperboy (Paco Arcadio)
True Jackson, VP (Joe, 1 episode)
Diary of a Single Mom (J.J, 2009-2010, 16 episodes)
2011
2012
Young Justice (Garfield Logan/Beast Boy, 2012-2017)
2013
External links
References
Community content is available under
CC-BY-SA
unless otherwise noted.