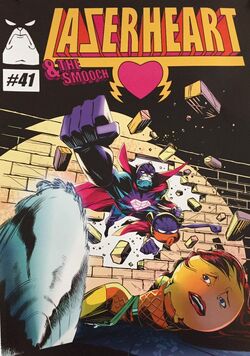 LaserHeart and The Smooch is a comic written by Sarah, which was first seen in "The Comic." Not much is known about its plot, other than LaserHeart saving the world from various perils. As shown in "The Drama," there exists an arcade game based on the comic.
Characters
LaserHeart
LaserHeart, based on Gumball, is the main protagonist of the comic. He has "the power of optimism," which is activated by the glowing heart on his chest. He has an incredibly muscular build, due to Chuck Klein's How to Draw Superheroes book that simply says "draw muscles, then more muscles." His sidekick is The Smooch, his girlfriend is Sarah, and his arch-nemesis is Onyx.
The Smooch
The Smooch, based on Darwin, is LaserHeart's sidekick. He is not as ripped as LaserHeart. His power is to kiss people and make them feel better. Not that much is known about him, except for his powers.
Sarah
Sarah is the creator of the comics, and a character inside the comic series. She appears to have a romantic relationship with LaserHeart, and mentions him and his brother fighting over her affection. She has no powers, which is ironic considering she is the writer of the comic.
Onyx
Based on a thief who stole Gumball's wallet, he is an antagonist who has the appearance of a black humanoid with grey hair and red eyes. At one point during a battle with LaserHeart, he steals his heart and shatters it but is quickly defeated when The Smooch gives LaserHeart his powers back.
Episode appearances
Season 4
Season 5
Season 6
Gallery
Trivia
Community content is available under
CC-BY-SA
unless otherwise noted.