"YAAAAAY!!!!"
This is a Featured Article. This page was selected as Featured Article on the main page. A new article will be elected soon.
Thank you for supporting the Gumball Wiki.
Kip Schlezinger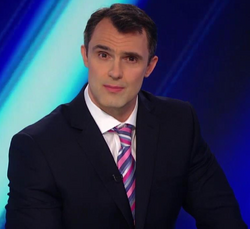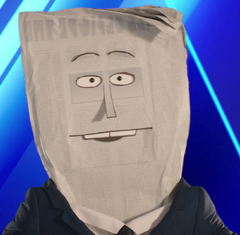 Character Information
Kip Schlezinger is a minor character in The Amazing World of Gumball. He first appears in "The Law."
Appearance
He is a male human dressed in a black suit over a white shirt. He also bolsters a blue tie, though on occasion he has worn a red tie (additionally, in the rough cut of "The News" he wears a striped tie).
In "The News," he is a giant live-action puppet made out of newspapers, instead of a normal human.
Episode Appearances
Season 3
"The Law" (debut): He is on the news reporting the intense heat.
Season 4
Season 5
Gallery
Trivia
As a live-action human, he was portrayed by the show's voice director, Richard Overall. However, Overall's voice was dubbed over by Dan Russell in Season 3 and Alex Jordan in Seasons 4 and 5 because he could not do an American accent well enough.[1][2]
When he was portrayed by Richard Overall, he was the only recurring live-action human on the show.

In "The News," however, he appears as an anthropomorphic newspaper.

His appearance in "The Law" differs from his other human appearances; in that episode, he has a mustache and a different haircut.
References
Community content is available under
CC-BY-SA
unless otherwise noted.