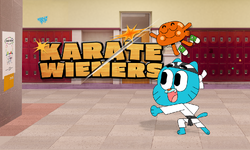 Karate Wieners is a game available as part of the Cartoon Network app on iOS devices.
Gameplay
The objective of the game is to karate chop all the objects that fly into the screen by swiping across the phone's touchscreen. Any objects that leave the screen unchopped will cause the player to lose a life. Later in the game, Anton and Banana Joe start flying into the screen, as well. Slicing either of them will also cause the player to lose a life.
Additionally, the lockers sometimes open up to reveal either Anton, Banana Joe, a silver trophy, or a gold trophy. Slicing Anton or Banana Joe causes the player to lose a life, slicing the silver trophy gives the player a life, and slicing the gold trophy causes the player to enter frenzy mode. In frenzy mode, several objects enter the screen, and any missed objects do not subtract lives from the player.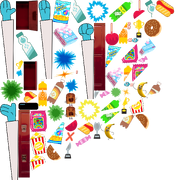 The player starts with three lives, and the game ends when all three are lost.
Scoring
Slicing an object yields ten points, and slicing several in one go nets additional points.
Trivia
The game references "The Gi," recycling the same karate uniform Gumball wore in the episode.
The objects that can be chopped are: a box of Marshmallow Heartstoppers, a bottle of Ninja Soda, a box of Daisy Flakes, a box of Rainbow Peanutbutter, a hotdog, a bag of popcorn, a candy apple, and a doughnut.
The game seems to be a parody of Fruit Ninja.
External links
Community content is available under
CC-BY-SA
unless otherwise noted.