Who is Julius Oppenheimer, Jr.?
Play Sound
Julius Oppenheimmer Jr.
Character Information
Gender:
Male ♂
Species:
Bomb
Friends:
Debbie (girlfriend),
Mowdown,
Darwin,
Scythe,
Reaper,
the rotten cupcake
Enemies:
Gumball, Principal Brown, Alan, Sussie, Ocho, Darwin (sometimes), Hector
Relatives:
Julius Oppenheimmer Sr. (father),
Mrs. Oppenheimmer (mother)
Occupation:
Student
First Appearance:
"The Lesson"
Voice:
Hugo Harold-Harrison
Gallery
Julius Oppenheimer Jr. is a minor character in The Amazing World of Gumball. He is a delinquent and trouble maker who goes to Elmore Junior High. He makes his first appearance in "The Lesson".
Appearance
Julius is a humanoid character with a black body and a bomb for a head styled to resemble classic cartoon characters from the 1920s and 1930s, such as Mickey Mouse or Oswald the Lucky Rabbit, wearing white gloves and a similar pair of shorts, along with a bow-tie. He is also monochrome to match the style.
Personality
Julius is shown to take charge, as he gives orders to Gumball, Darwin, Mowdown, Scythe, and the rotten cupcake. He seems to be bullying other students like Alan, Ocho, and Sussie. He is also shown to be quite smart, as he was able to plan an escape from Elmore Junior High, using Gumball and Darwin as scapegoats. At times, his "head" lights a fuse, usually due to anger. Once he explodes, his head is replaced with a much smaller bomb, thus making his voice comically high-pitched and squeaky. He also appears to still hold a grudge against Gumball and Darwin as he is seen along with the angry crowd attacking the Wattersons inside their house at the end of "The Finale."
In "The Sucker," Julius' manipulative and intelligent nature is further displayed as he uses Darwin to vandalize and cause chaos due to the latter's trusting and naïve nature. His strained nature with his delinquent friends is also shown; the group can break out into arguments upon the slightest provocation, with Julius participating and indeed starting one such argument by proclaiming himself as the boss and kicking Reaper when he protests. This also shows Julius' violent and malicious nature. However, when he is tricked by Darwin into believing that his life has been ruined, he undergoes a personality change: he realizes the error of his ways and befriends Darwin, deciding to treat others better, even picking up some comedy skills from Darwin. While after this he and Darwin are friends, he continues to act like a delinquent.
Episode appearances
Season 2
"The Lesson": His first major role. He is in detention.
"The Finale": He is in the angry mob attacking the Wattersons.
Season 3
"The Question": He trashes Alan's lemonade stand with Mowdown.
"The Spoiler": He watches the movie, and Gumball throws away his drink.
Season 4
Season 5
Season 6
Gallery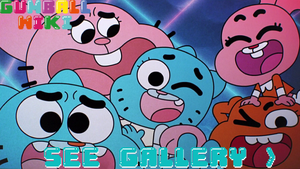 Click here to view the gallery.
Trivia
His first name could be a reference to Julius the Cat, Disney's very first major cartoon character.
His full name was revealed in "The Sucker."