Wiki Targeted (Entertainment)
Play Sound
"YAAAAAY!!!!"
This is a Featured Article. This page was selected as Featured Article on the main page. A new article will be elected soon.
Thank you for supporting the Gumball Wiki.
Joanna "Jojo" Watterson
Character Information
Color Scheme
fur
cloth
eye
nose

none
Joanna "Jojo" Watterson (née Beresford) is a recurring character in The Amazing World of Gumball. She is the mother of Richard, the paternal grandmother of Gumball, Darwin, and Anais, mother-in-law of Nicole, ex-wife of Frankie, and is the girlfriend and later wife of Louie. Gumball strongly dislikes being kissed by her. She loves her husband and hates her ex-husband.
Appearance
Granny Jojo is a pink rabbit, like Richard and Anais. She is short, wears a pair of cats-eye glasses with purple lenses, and, being an old woman, she has wrinkled lips, saggy breasts (similar to Miss Simian, making them some of the few female characters on the show to have breasts), and wrinkles on her forehead, under her eyes, and around her mouth. She speaks with a New Jersey accent.
In season 1, she wears a beige polka-dotted dress with a white collar and sleeve cuffs and white socks with black shoes, and she has three black whiskers on each cheek and straight ears, both of which resemble Richard's.
In season 2 onward, she wears a plain beige dress with white sleeve cuffs and she keeps her original footwear. She is shorter, has extra wrinkles on her face, a smaller, rounder head, wider hips, ears that now resemble Anais', shorter light grey whiskers, grey eyebrows, and an overall grouchier appearance, implying that she had aged further. "The Man" reveals she wears a girdle, and without it her body becomes very saggy and almost shapeless.
In "The Choices" and "The Cycle," when she is shown at a younger age, she has slightly fewer wrinkles and black eyebrows, and she wears a yellow collared dress with a light brown vest.
Personality
Granny Jojo has a grouchy and somewhat lazy personality. As stated by Nicole, all she has left in her old age are cop shows and kissing her grandchildren, mainly the former. She is very dedicated to receiving kisses from them, even to the point of forcing Gumball into one with a kiss on the lips. She also tends to spend her days watching TV.
She also does not seem to respect her grandchildren whatsoever, calling Darwin "fish kid" or "walking fish," and Gumball "the blue one," but she might have respect for Anais, as she calls her by her real name (albeit mispronouncing it). Despite this, she tasked Anais to carry her heavy bags upstairs for her, which apparently took an entire day to accomplish, ironically only finishing when she was ready to leave.
When she was younger, she still possessed her grouchy and uncaring personality, to the point of telling her young son, Richard, that magic is all fake; this shocked him into screaming loudly for an apparent fifteen straight years.
Her parenting style involves completely sheltering children, or "stopping problems before they happen" in her words. She scares the kids into doing nothing other than sitting on the couch, eating snacks she prepared, and never letting them think for themselves to the point where they can barely think at all, which resulted in much of her son Richard's lack of common sense. The difference between hers and Nicole's parenting styles leads to a major conflict between the two mothers in "The Authority."
She is so generally unhappy that in "The Man," Anais was surprised to see her smile.
She is also shown to be extremely possessive and jealous, as evidenced in her relationship with her husband Louie. It is shown in "The Catfish" that she will not let him have any friends, smashing a mirror he smiled at simply because she thought he was smiling at someone, smashing a self-check-in because she thought it flirted with Louie, slapping Louie's doctor's hand away, and becoming jealous of the x's in his x rays. When she falsely believes Louie is cheating on her with a woman from the mall (the result of Gumball and Darwin's meddling), she tries to hunt down and kill said woman. Whether her jealous possessive nature is the result of her previous husband leaving her or is the reason he left her is unknown.
Relationships
Main article: Joanna Watterson/Relationships
Episode appearances
Season 1
Season 2
"The Authority": Her second major role. She tries to be overprotective of her family.
"The Plan" (mentioned)
Season 3
Season 4
Season 5
Season 6
Voice actors
Sandra Searles Dickinson (US/UK/AUS/NZ/CAN)
Ángeles Bravo † (season 1 to 4)
Anabel Méndez (season 5 onwards) (Latin America)
Antonella Alessandro (Italy)
Mariusz Czajka (Poland, season 1)
Hanna Kinder-Kiss (Poland, season 2)
Anita Sokołowska (Poland, season 3)
Anna Apostolakis (Poland, season 4–present)
Marly Ribeiro (Brazil)
Maria Helena Pader (Brazil, "The Vase" and "The Father")
Carine Seront (France)
Alanka Halász (Hungary, season 1)
Emma Bessenyei (Hungary, season 2)
Zsuzsa Molnár (Hungary, season 3–present)
Oana Avram Mereuță (Romania, seasons 1–3)
Olimpia Mălai (Romania, season 4–present)
Long Hui Was (Taiwan)
Rósa Þórsdóttir (Iceland)
Gallery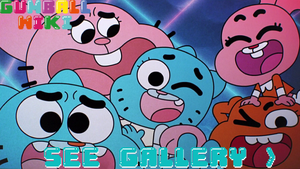 Click here to view the gallery.
Quotes
"

Hello, walking fish.

"
—Jojo to Darwin
"

Where's the blue one?

"
—Jojo
"

Give Granny Jojo a kiss goodbye.

"
—Jojo
"

Anais!

"
—Jojo to Anais
"

A good mother prevents the incident before it happens.

"
—Jojo to Nicole
"

Well, at least they're safe!

"
—Jojo to Nicole
"

Oh, looks like my work here is done.

"
—Jojo
"

Apart from that, which was paper.

"
—Jojo
Trivia
Clips of her from "The Kiss" were available online long before the episode's original airing.
She seems to really like the TV show Sheriff McGruff, as revealed in "The Kiss."
Granny Jojo has so much metal in her that she is legally classified as a motorized vehicle, according to her in "The Man."
Her first name is revealed to be Joanna in "The Signature."
After she started dating Louie in season 3, she became less downhearted.
Granny Jojo has a lot in common with Sheila Broflovski from South Park. For example, she is extremely overprotective towards her family, speaks with a New Jersey accent, and has trouble admitting when she's wrong.