Wiki Targeted (Entertainment)
Play Sound
Jealousy
Character Information
Color Scheme
Cloud
cloth
eye
other

none

none

none
Jealousy is a single-appearance character in The Amazing World of Gumball. So far, it only appears in the episode "The Flower." Jealousy is apparently a pure manifestation of jealousy that can possess anyone or anything, causing the victim to turn a shade of green, and gain its face as well as its voice. It also causes its victim to reveal something they always wanted, except for those who are happy with their life as it is like Darwin. He also plays a main role in the online game Class Spirits, a minor role in Fellowship of the Things as one of Gumball's abilities, and an appearance in the mobile game Rainbow Ruckus.
Hosts
Episode appearances
Season 2
"The Flower": His debut and first major role. He possesses Gumball.
Gallery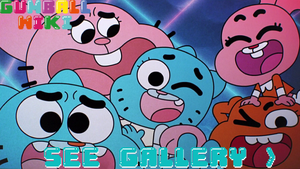 Click here to view the gallery.
Trivia
He can even possess Carrie, who is a ghost.

Like Carrie, his reflection can be shown when he is possessing someone.

He seems to be summoned by intense jealousy in someone, and from there can possess anyone until being destroyed.
He is the fifth character to die in the series (even though he comes back), along with Anton (who is revived), four of the creatures, the virus, Zach, the Anton clones, Ant-One, Vlad, Mr. Chanax, the purple squirrel, Darwin (who is revived), Anais (who is revived), Gargaroth, the Game Child, and the troll.