"Well, you know I could help you with that."

This article is about the student. You may be looking for the adult.
Hot Dog Guy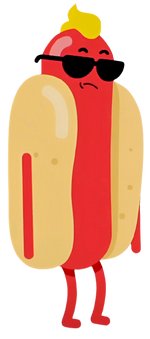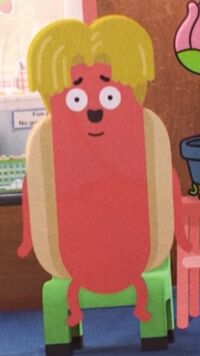 Character Information
Gender:
Male ♂
Species:
Hot dog
Friends:
Gumball (at times),
Jamie,
Clare,
Idaho,
Jared,
the mushroom,
the green bear, the 8-bit dog
Enemies:
Gumball (at times),
Darwin (in "The Extras")
Banana Joe (in "The Candidate")
Relatives:
an unnamed mother, an unnamed father, two unnamed brothers
Occupation:
Student
First Appearance:
"The Third"
Voice:
Dan Russell ("The Extras")
Alex Jordan (currently)
Gallery

Color Scheme
Sausage
Buns
Sunglasses
Mustard
Hot Dog Guy is a recurring character in The Amazing World of Gumball. He used to mostly appear in the Elmore Junior High cafeteria, along with the green bear, the 8-bit dog, and the mushroom, but later started appearing more often elsewhere.
Appearance
He is a large anthropomorphic hot dog, with very thin arms and legs. He is always seen wearing a pair of dark sunglasses. As of "The Hug," he wears a wig resembling a tuft of mustard to hide the birth scar on his head.
Personality
Hot Dog Guy is an ordinary enough person but does not deal well in awkward situations, to the point that he and Gumball have had to block out some of their awkward memories together. Hot Dog Guy is somewhat level-headed but not very willing to come out of his comfort zone, as seen in "The Cringe" when he refuses to shower naked with Gumball, wearing swimming trunks instead. Outside of his awkward interactions with Gumball, Hot Dog Guy appears to be sociable and friendly, often waving to people and having conversations with a large variety of students.
Episode appearances
Note that, prior to "The Hug," it is ambiguous as to whether the hot dog character that appears in the majority of these episodes is this character or his adult counterpart.
Season 1
Season 2
Season 3
Season 4
Season 5
Season 6
Gallery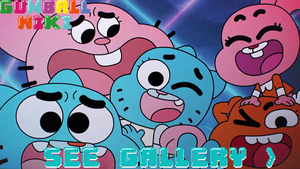 Click here to view the gallery.
Trivia
In "The Spoiler," Hot Dog Guy can be seen choking on a hot dog after Gumball accidentally tosses one in his mouth.

In "The Hug," Hot Dog Guy is forced to eat hot dogs by Gumball.

In "The Hug," it is revealed that his name actually is Hot Dog Guy.

It could be noted that Hot Dog Guy does not know what Gumball's name is. He refers to him as the "anonymous, blue stranger" in "The Hug," and "him" during their first encounter in "The Awkwardness."

He looks very similar to the hot dog man— indeed, the two were identical until "The Hug." He also resembles the physical appearance of Earl. It is unclear if the three are related but it is known that Hot Dog Guy has two brothers.
Community content is available under
CC-BY-SA
unless otherwise noted.