Wiki Targeted (Entertainment)
Play Sound
"YAAAAAY!!!!"
This is a Featured Article. This page was selected as Featured Article on the main page. A new article will be elected soon.
Thank you for supporting the Gumball Wiki.
Hector Jötunheim
Character Information
Color Scheme
coat
skin
eye
other

none

none
Hector Jötunheim is a supporting character in The Amazing World of Gumball. He is a student at Elmore Junior High who is in Miss Simian's class. He is also comedically the son of the much smaller Mrs. Jötunheim.
Appearance
Hector is an enormous, gorilla-like giant with bluish-purple skin covered in shaggy, orange and pink fur, with only his hands, feet, and buttocks being bare. His face, when shown, is often covered by his hair, but his face is finally revealed in "The Butterfly," and resembles an ape's.
Hector's size is often inconsistent from episode to episode, or even scene-to-scene. Most scenes that include Hector show no more than his feet and legs reaching up offscreen, and on rare occasions when his entire body is on camera, he can range from fifty feet to nearly a thousand feet tall, towering over the entire city of Elmore. Because of this, he does not walk to school, rather his mom, Mrs. Jötunheim, rides her broom to his school, and then teleports him there, as shown in "The Singing."
In the early reel, Hector's legs were more multicolored, and his skin was light blue.
Personality
Hector may seem menacing due to his immense size, but he is actually a very soft and kind, quite literally being a gentle giant. He would never purposely hurt anyone, but he has on occasion been known to unintentionally step on people.
It is explained later in the second season that the kids feel Hector is boring. Hector is deeply offended by this and attempts to silence those rumors by showing them all the exciting things he does. Unfortunately, all those "exciting" things turn out to be lame - reading actionless comics, taking naps in the middle of the day, and playing with his unknowingly dead hamster. The reason he never does anything exciting is because he is forbidden (by his mother) to express any extreme emotion, mainly because she knows that when you excite a giant, destruction ensues. Gumball, unaware of this fact, encourages Hector to go against his mother's ideals. As expected, Hector goes on a rampage through town, screaming and demanding that he is fun and exciting, and not boring. It is later revealed he destroyed 75% of Elmore in the rampage, costing over $800,000 dollars in damage.
As shown in "The Potion," despite having some issues as a giant, he tries to not go against his mother's wish to never become shrunk down, so that he could learn to grow up as who he should be. However, he becomes enticed to drink the shrinking potion made from Gumball and Darwin, and at first, he shows excitement about being small-sized. However, he faces various inconveniences and problems as a result, and he becomes depressed. He is shown to be insulting as a result of the problems he faces as a small being, calling the others "cockroaches" and shows impatience to Gumball and Darwin when Gumball asks him to say please, and Gumball mentioning to him that he shouted "NOW" over a hundred times.
Relationships
Hector's way of living revolves around the influence of his own mother, especially in the field of expressing emotions. The giant felt that his mother was doing this for his own sake and that it was best for him to have such a way of life.
Gumball was disappointed at how Hector rejected his friend request on Elmore Plus in "The Colossus," and felt that it was his business to butt in the giant's life. Gumball was the first to tell Hector to stand up to his own mother, which resulted into the giant going in a destructive state. Gumball later fixed the problem he caused, and the relationship between the two drastically improved by then. By the end of the episode, it was later revealed that Hector wanted to add Gumball as a friend. The fact that Hector wanted to be friends with Gumball, probably with the approval of his mother, really proved how much the friendship between the two really grew even though he rejected it.
Hector may have feelings for Tina, as shown in "The Party," where he asks her for a dance. Tina quickly accepts, blushing, hinting that she returns his feelings.
It is definite that Hector has feelings for Sarah, as seen in "The Night," where he sits next to her and kisses her cheek in his dream as he destroys Elmore in his sleep.
Episode appearances
Prototype
Early reel: Gumball and Darwin get stuck to his butt.
Season 1
Season 2
Season 3
Season 4
Season 5
Season 6
"The Shippening": Sarah ships him with Masami, who he accidentally chokes on.
"The Potion": His second major role. He is encouraged by Gumball and Darwin to drink a shrinking potion to "be like everyone else." However, he ends up becoming depressed, and wants to become giant again.
"The Inquisition": He is at the meeting.
Scrapped appearances
Gallery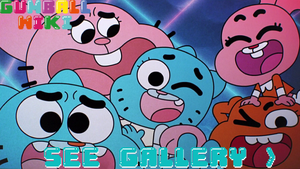 Click here to view the gallery.
Quotes
"

H

e

c

t

o

r

: Hey Tina, can I have the next dance?
T

i

n

a

: You can have this one.

"
"

T

o

b

i

a

s

: Hey Hector, is the game over?
H

e

c

t

o

r

: Yeah, we lost. [Whips Gumball, Tobias, and Banana Joe with a giant towel]

"
"

H

e

c

t

o

r

: That's my hamster, Barney.
Darwin: Dude, I think that Barney is... [Spins Barney's wheel; Barney turns upside down and falls on his head, completely motionless]

"
"

H

e

c

t

o

r

: What? Boring? Darwin, do you think I'm boring?
Darwin: I wouldn't say "boring." You're just...much much much much much much much much less interesting than anyone else I know.

"
"

Gumball: Okay, so you want us to make a growing potion?
H

e

c

t

o

r

: Yes.
Gumball: And what's the magic word, heh?
H

e

c

t

o

r

: Now.
Gumball: Uh, no dude, the magic word-
H

e

c

t

o

r

: NOW!!!

"
"

Darwin: Dude, are you feeling okay?
H

e

c

t

o

r

: Yup! I'm feeling HECTOR!! [Giggles]

"
Trivia
Hector is the tallest student of Elmore Junior High.
His design resembles the famous movie villain King Kong.
Despite his size, Hector somehow manages to fit in the school corridors, as seen in the episode "The Curse."
Hector's last name refers to the land of Jötunheimr, a mythical land in Norse mythology where the Jötnar, mythical giants, resides.
Hector pretends that he is not naked, according to his dream in "The Night."
Hector may like Sarah due to the kiss he gave her in his dream in "The Night."
Although he is in Miss Simian's class, he is never actually seen inside the classroom because of his size.
He had no speaking roles in season 3.
Hector's buttocks are bare because he has to use a volcano as a toilet, as revealed in "The Night."
The suspension card Principal Brown issues Gumball in "The Apology" for 'forging Richard's signature' lists 'Property destruction / upsetting hector [sic]' as an infraction.