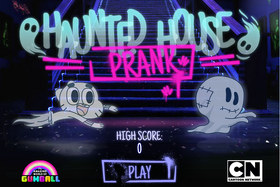 Haunted House Prank is an online game based on The Amazing World of Gumball.
Gameplay
The level design and gameplay is similar to School House Rush but does not use platforming elements to the same extent. Controlling Gumball through the haunted house, the player must collect all the green orbs to open the door and progress to the next screen. The player must collect the ectoplasm in order to turn Gumball into a ghost long enough to scare the other characters who are wearing ghost disguises, if Gumball comes into contact with a ghost he will lose a life and the level will reset.
Cast
Gallery
Trivia
This game was first released on several international Cartoon Network websites, before it was released in the US.
External links