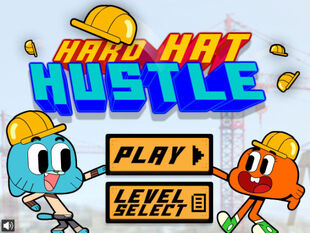 Hard Hat Hustle is an online game based on The Amazing World of Gumball. It was released on September 30th, 2013. 
Story
Gumball and Darwin's class are on a field trip at a construction tite. Patrick warns the class about wormholes and tells everyone to stick to their buddy. Gumball after listening to Patrick had already lost Darwin and has to find him.
Controls
Run: A or D/Left or right arrow key
Jump: W or space bar
Grab boxes: S or down arrow key
Gameplay
In this game, the player controls Gumball, and the objective is to find Darwin. The player can warp through the edges (as long as it is not blocked), jump on Alan to get a boost up, move boxes (including spike boxes) and travel through wind tunnels in order to get closer to Darwin. Along the way, the player has to avoid spikes (including spikes that are shot out of spike boxes), the tools held by the construction men, as well as the obstacles that are shot out by the them.
To get a star on the level, the player must collect all the jellybeans scattered around. Bonus points will be awarded if the player finishes the level quickly.
Some gestures in the game (notably, Gumball and Darwin's special handshake) were recycled from "The Third."
Cast
Badges

Attention Students - Mystery badge.

Bean Counter - Collect 25 beans.

Finding Darwin - Beat the game.

Warp Zone - Warp 10 times.

Wrecking Crew - Defeat an enemy.
Gallery
Trivia
External links
Community content is available under
CC-BY-SA
unless otherwise noted.