"YAAAAAY!!!!"
This is a Featured Article. This page was selected as Featured Article on the main page. A new article will be elected soon.
Thank you for supporting the Gumball Wiki.
Gaylord Robinson
Character Information
Color Scheme
fuzz
cloth
eye
nose

none
Mr. Gaylord Robinson is a supporting character in The Amazing World of Gumball. He is the Wattersons' grouchy next-door neighbor. He lives with his wife, Margaret, and usually gets into arguments with her. They both raised one child, Rocky.
Appearance
Mr. Robinson is a puppet-like creature. His body is shaped like a slightly rounded cylinder, and regarding relative height, he only stands a few inches above Gumball. Grey-blue fuzz covers his entire body, all except his large and protruding nose, which is grayish pink. He is completely bald.
Mr. Robinson wears a fancy navy blue blazer with a short red striped tie and a white shirt underneath, plus a pair of brown pants and plaid slippers. He has large, rectangle, thick-rimmed glasses that help him see with his tiny eyes. He also has a noticeable unibrow. When he talks, his mouth opens in typical Muppet fashion.
When Mr. Robinson is yelling, he sometimes is frantically raised in the air in a fit of blind fury.
Personality
Mr. Robinson is known for his uptight and grumpy personality. He is obsessed with money, status, and arguing. He deeply despises Gumball, and can barely tolerate the rest of his family. This is because he considers them to be a tacky and cheap family, and views himself and his property as better than the Wattersons'.
He also has a very short temper and can fly into a raging stupor if he is pushed too far. Despite his rough and angry behavior, Mrs. Robinson is not intimidated by his anger, and even though they are married to each other, he and his wife share an oddly healthy relationship that revolves around arguing and yelling at each other. Although, his attitude towards her changed quite a bit in "The Poltergeist."
On the inside, however, he seems to possess an energetic and bold personality, as shown in "The Debt."
Episode appearances
Season 1
Season 2
Season 3
Season 4
Season 5
Season 6
Relationships
Main article: Gaylord Robinson/Relationships
Voice actors
Stefan Ashton Frank (season 2–present)
Guillermo Coria (Latin America, seasons 1–2)
Humberto Vélez (Latin America, season 3–present)
Katsuhisa Hōkin (Japan)
Mauro Ramos (Brazil, seasons 1–5)
Guilherme Lopes (Brazil, season 6)
Wojciech Słupiński (Poland)
Vyacheslav Bibergal (Russia, season 3-4)
Andrey Grinevich (Russia, season 6)
András Faragó (Hungary, season 1)
Győző Mihályi (Hungary, season 2)
Gábor Forgács (Hungary, season 3–present)
Quotes
"

[straining] That's...my...heart!

"
—"The Debt"
"

You know, Margaret? Maybe those kids aren't so bad after all.

"
—"The Car"
"

[smashing up the Wattersons' car] THIS IS WHAT HAPPENS WHEN YOU MESS WITH GAYLORD! THIS IS WHAT HAPPENS! THIS IS WHAT HAPPENS! THIS...IS...WHAT...HAPPENS!

"
—"The Car"
"

Bu-bu-bu-bu-but, please be careful with it!

"
—"The Car"
"

Margaret, we're out of canned toothpaste... [slips and slides on the floor]

"
—"The Tag"
"

MMAAAAAAARRGGAARREEEEEETT!

"
—"The Car"
"

Hey. Gumball? I-I just wanted to say... You've got massive hips.

"
—"The Heart"
"

Uh, Darwin, you speak English very well.

"
—"The Heart"
Gallery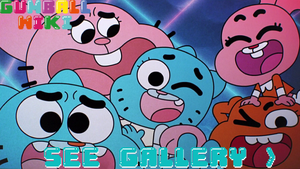 Click here to view the gallery.
Trivia
Gaylord's physical appearance and movements, like the rest of the Robinsons, is based on that of a Muppet.
He has the third most major roles in the show (with a total of eight) that is not a Watterson, next to Rob and Penny.
He is apparently able to cough up his heart and swallow it again, leaving him exhausted, but perfectly healthy otherwise.
It is shown in "The Debt" that he is a good singer and dancer.
Mr. Robinson owns a pearl-white 1964 Lincoln Continental, which appears in several episodes, most notably "The Car."
As the series progresses, Mr. Robinson becomes somewhat friendlier to Gumball and Darwin, with the exception of the season 4 episode "The Sale."
He is one of the few characters from season 1 that never underwent a design change.
In "The Poltergeist," he is revealed to be aged somewhere in his 50s.