Wiki Targeted (Entertainment)
Play Sound
Gary Hedges
Character Information
Harry Gedges, better known by his pseudonym Gary Hedges, is a recurring character in The Amazing World of Gumball. He first appeared in "The DVD." He is the elderly neighbor of the Watterson family, and he is seen doing many jobs around Elmore. He is under the name "Gary Hedges" because of his testimonial of a crime in his major role episode, "The Neighbor."
Appearance
Harry is an elderly, lavender moose with large antlers. He is commonly seen wearing a pale brown homburg hat, a brown bowtie, and a light green sweater with dark blue slacks cuffed over black boots.
Personality
He is rather joyful, yet oblivious. He often does not seem to know what is going on, or ignores it and continues with his duty. His occupations seem to be temporary, as he is often seen doing different jobs in different episodes. It is possible he is retired and is doing it for sentimental community service.
Harry has done many jobs benefiting Elmore and the community, such as neighborhood mailman (a job he held for many years before Gumball and Darwin signed up), driving the bus (sometimes even the school bus) and advertising for local shops.
In 'The Love' (his third major role) he has the episode's eighth segment devoted to him, in which he is infatuated with Martha, and he turns his head to stare at her, which causes him to crashes his car into the Donut Cop's police car and get in trouble.
He is also extremely thankful and grateful for anything he gets, as seen in his first major role, "The Extras," when he wins a microwave and he rips off his shirt and roars "THANK YOU!" repeatedly to the host, and then begins to hug and kiss him. When the host tries to flee, he tackles the host and continues expressing his thanks. This shows a more aggressive side of Harry, but despite the aggressiveness, he was sincerely trying to show his thanks and did not intend to be aggressive or make the host uncomfortable.
Harry is shown to have (or at least have been minding or walking) a dog in the episode "The Job" and he is shown to have a cat in "The Nest" (his third major role). he is shown to care about his pet(s) very much, as in "The Nest" episode he was searching for his cat and worried when it was gone.
He appears to be a fan of the 'Stellar Odyssey' films, and is seen watching them in the cinema.
Episode appearances
Season 1
Season 2
Season 3
Season 4
Season 5
Season 6
Comics
Gallery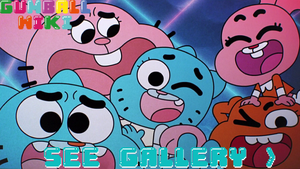 Click here to view the gallery.
Trivia