Frank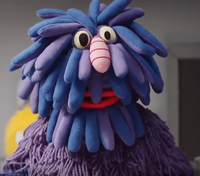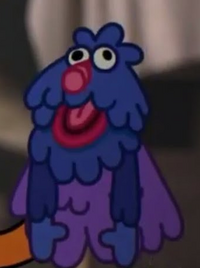 Character Information
Frank is a single-appearance character in The Amazing World of Gumball. He only appears in "The Puppets." He also appears in the minisode series Waiting For Gumball.
Appearance
Frank is a tall walkaround puppet covered in blue purple dreadlocks, with purple down on his body. He has mismatched eyes and a pink stripey nose.
Episode appearances
Season 5
"The Puppets": His first and only appearance and major role. Darwin becomes obsessed with him and Howdy, but he and his puppet friends try to switch the roles around.
"Clean"
"Spoons"
"Bored"
"Telly"
"Grump"
Gallery
Trivia
His voice might be based on those of Yellow Guy and the Lamp from Don't Hug Me I'm Scared series.
He is both animated in 2D and shown as a puppet, making him one of the few characters to be animated in more than one medium, the others being Howdy, Grady, Blitzer, Principal Brown, Sussie, Ocho, the Evil Turtle's babies, and Rob.
Unlike the other puppets, Frank is a walkaround costume. This is true because if Frank was a puppet, his legs would be controlled by wires.
Community content is available under
CC-BY-SA
unless otherwise noted.