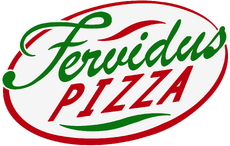 Fervidus Pizza, also known as Elmore Pizza, is a pizzeria in Elmore. It was first mentioned in "The Job," where Richard works as one of their delivery boys. The store itself first appeared in "The Game," where its address is revealed to be 420 Grove Street.
Description
Fervidus Pizza appears to be a typical pizza restaurant, selling various pizzas, drinks, and offering delivery. In "The Job," Richard gets a job as one of their delivery boys, with Larry as his boss. However, Richard having a job is so fundamentally against nature that him merely doing it causes the fabric of reality to start coming apart. He is fired at the end of the episode, having been caught sneaking bites of the pizzas he was supposed to deliver. 
In "The Game," one of Nicole's dares was to order a prank pizza; she does so using Fervidus Pizza as both the maker and the recipient of the prank delivery. It is shown that Larry basically operates the store by himself, being the cashier, cook and delivery boy.
Episode appearances
Season 2
Season 3
"The Pizza": Richard calls Larry there, and the Wattersons later meet him at the front of the pizzeria.
Season 4
Season 5
Season 6
Trivia
Fervidus is Latin for "fiery," "passionate," or "excited."
Community content is available under
CC-BY-SA
unless otherwise noted.