Wiki Targeted (Entertainment)
Play Sound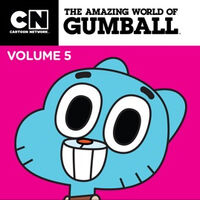 Season Three
Episodes:
40
Network:
Cartoon Network
US airdate
June 5, 2014


—


July 9, 2015
UK airdate
September 14, 2014


—


September 24, 2015
Digital downloads
Volume 5
Volume 6
On June 5th, 2014 in the United States, The Amazing World of Gumball premiered its seventy-seventh episode, "The Kids," which marked the start of the third season of the show. The season ended on July 9th, 2015 with "The Money." In total, the season consisted of forty episodes averaging at ten minutes in length.
Cast
See also: Crew, voice actors, voice actresses, and guest stars
Jacob Hopkins and Terrell Ransom, Jr. took over from Logan Grove and Kwesi Boakye as Gumball and Darwin, respectively, at the end of The Kids. In addition, Simon Lipkin became the voice of Rocky Robinson, and Maria Teresa Creasey took over the role of Jamie Russo. Veteran actor Shane Rimmer also joined the cast as Louie Watterson, taking over from Dan Russell as of "The Extras."
Character debuts
Significant characters
Single-appearance characters
Episodes
Title card
Episode number
Title
Original airdate
Prod. code

1 (77)
"The Kids"
gallery | transcript
US: June 5, 2014
UK: September 14, 2014
GB301
Gumball and Darwin's voices are breaking, but they are showing no signs of growing up.
Featured song(s): Make The Most of It, A New Start
Main: Gumball, Darwin
Debut: None

2 (78)
"The Fan"
gallery | transcript
US: June 5, 2014
UK: September 14, 2014
GB303
Sarah, the new kid in school, is Gumball and Darwin's number one, crazy obsessive, fan.
Featured song(s): Kooky Song, Stalker Song
Main: Gumball, Darwin, and Sarah
Debut: None

3 (79)
"The Coach"
gallery | transcript
US: June 12, 2014
UK: September 15, 2014
GB306
The new coach at Elmore Junior High stands up to Jamie.
Main: Gumball, Darwin, Jamie, Coach
Debut: Coach, Mr. Russo

4 (80)
"The Joy"
gallery | transcript
US: June 19, 2014
UK: September 22, 2014
GB305
Miss Simian has to save herself from a contagious Joy virus infecting the whole school.
Featured song(s): Keep Smiling
Main: Miss Simian
Debut: none

5 (81)
"The Puppy"
gallery | transcript
US: June 26, 2014
UK: October 6, 2014
GB304
The kids finally get the puppy they always wanted. Except, it is actually a turtle that hates them.
Main: Gumball, Darwin, Anais, Evil Turtle & more...
Debut: Evil Turtle

6 (82)
"The Recipe"
gallery | transcript
US: July 3, 2014
UK: September 29, 2014
GB311
Gumball and Darwin discover the secret behind Anton's immortality.
Main: Gumball, Darwin, Anton & more...
Debut: Anton clones & more...

7 (83)
"The Name"
gallery | transcript
US: July 10, 2014
UK: October 17, 2014
GB307
When Gumball discovers his real name is Zach, he starts developing an alter ego with a bad reputation.
Main: Darwin, Zach, Gumball
Debut: Zach, coffee cop & more...

8 (84)
"The Extras"
gallery | transcript
US: July 17, 2014
UK: October 20, 2014
GB312
It is a slow day for Gumball and Darwin, and the others in Elmore get to take center stage.
Featured song(s): Just Notice Us, Bacon Rap
Main: The People
Debut: Drum kit guy, Steve

9 (85)
"The Gripes"
gallery | transcript
US: July 24, 2014
UK: November 3, 2014
GB308
When Gumball and Darwin complain so much, they become actual charity cases. Meanwhile, Anais teaches Richard about sarcasm.
Featured song(s): Love Can Set You Free
Main: Gumball, Darwin
Debut: none

10 (86)
"The Vacation"
gallery | transcript
US: July 31, 2014
UK: October 28, 2014
GB310
The Wattersons set off on a relaxing vacation, and end up running for their lives! 
Featured song(s): If You're Happy and You Know It
Main: Gumball, Darwin, Nicole, Scary Old Man & more...
Debut: Scary old man & more...

11 (87)
"The Fraud"
gallery | transcript
US: August 7, 2014
UK: November 10, 2014
GB316
Gumball and Darwin discover that Principal Brown's diploma is fake.
Main: Gumball, Darwin, Principal Brown
Debut: none

12 (88)
"The Void"
gallery | transcript
US: August 14, 2014
UK: November 17, 2014
GB309
When Gumball, Darwin, and Mr. Small investigate a missing classmate, they discover a far greater mystery... the Void and the mistakes of Elmore.
Main: Gumball, Darwin, Mr. Small & more...
Debut: none

13 (89)
"The Boss"
gallery | transcript
US: August 21, 2014
UK: February 16, 2015
GB313
Gumball and Darwin help Rocky get an office job to impress his father, but it is not what it seems.
Featured song(s): Hey Rocky
Main: Gumball, Darwin, Rocky & more...
Debut: Soulless office worker & more...

14 (90)
"The Move"
gallery | transcript
US: August 28, 2014
UK: February 23, 2015
GB317
Clayton may be a liar, but Gumball discovers he was not lying about his awesome martial arts move.
Main: Gumball, Darwin, Clayton
Debut: none

15 (91)
"The Law"
gallery | transcript
US: September 4, 2014
UK: March 2, 2015
GB314
Donut Cop shows Gumball and Darwin that the smallest misdemeanor can lead to a breakdown in law.
Main: Gumball, Darwin, Donut Cop
Debut: Kip Schlezinger & more...

16 (92)
"The Allergy"
gallery | transcript
US: September 11, 2014
UK: March 2, 2015
GB318
Gumball and Anais struggle to find a cure for Darwin's allergies.
Main: Gumball, Darwin, Anais
Debut: Yellow triangle

17 (93)
"The Mothers"
gallery | transcript
US: September 18, 2014
UK: March 9, 2015
GB315
It's Mother's Day, and kids put their moms through a series of tests to determine who the World's Greatest Mom is.
Featured song(s): She's The Best
Main: Gumball, Darwin, Nicole & more...
Debut: none

18 (94)
"The Password"
gallery | transcript
US: September 25, 2014
UK: March 9, 2015
GB320
After learning that Anais is Richard's favorite child, Gumball and Darwin are determined to take the title from her.
Main: Gumball, Darwin, Richard & more...
Debut: none

19 (95)
"The Procrastinators"
gallery | transcript
US: October 2, 2014
UK: March 16, 2015
GB319
Gumball and Darwin go to extraordinary lengths to avoid taking out the trash.
Main: Gumball, Darwin
Debut: none

20 (96)
"The Shell"
gallery | transcript
US: October 9, 2014
UK: March 23, 2015
GB302
After accidentally cracking open Penny's shell, Gumball encourages her to show the world who she really is.
Main: Gumball, Penny
Debut: Dexter, Jessica & more...

21 (97)
"The Burden"
gallery | transcript
US: October 16, 2014
UK: April 20, 2015
GB321
While in charge of watching the school hamster, Gumball and Darwin leave it at school for the weekend.
Featured song(s): It's Love
Main: Gumball, Darwin, Chris Morris
Debut: Chris Morris

22 (98)
"The Bros"
gallery | transcript
US: October 23, 2014
UK: April 25, 2015
GB322
When Darwin gets jealous of Gumball and Penny's relationship, he sets out to find information on Penny that will break them up.
Featured song(s): Come On Now
Main: Gumball, Darwin, Penny
Debut: none

23 (99)
"The Mirror"
gallery | transcript
US: October 30, 2014
UK: April 4, 2015
GB323
Against Darwin's advice, Gumball refuses to forward a scary e-mail, bringing down a curse on the whole family.
Main: Gumball, Darwin, Vladus, Carrie
Debut: none

24 (100)
"The Man"
gallery | transcript
US: October 30, 2014
UK: April 9, 2015
GB326
When Granny Jojo brings her new boyfriend to her birthday dinner, Richard bans her from seeing him again.
Featured song(s): I is for Incredible
Main: Richard, Granny Jojo, Gumball, Louie & more...
Debut: none

25 (101)
"The Pizza"
gallery | transcript
US: November 13, 2014
UK: April 14, 2015
GB325
Frustrated, Larry quits all of his jobs, unraveling the apocalypse of Elmore.
Main: Gumball, Darwin, Larry, Richard & more...
Debut: none

26 (102)
"The Lie"
gallery | transcript
US: November 20, 2014
UK: May 1, 2015
GB328
Noticing that everyone is in the doldrums of January, Gumball and Anais invent a new holiday to spark excitement.
Featured song(s): Sluzzle Tag Song
Main: Gumball, Anais, Miss Simian, Sluzzle Dude
Debut: none

27 (103)
"The Butterfly"
gallery | transcript
US: January 8, 2015
UK: May 13, 2015
GB330
After a butterfly emerges from its chrysalis, Gumball and Darwin release it, and it wreaks havoc all over Elmore.
Featured song(s): Elmore Help Desk
Main: Butterfly
Debut: Butterfly

28 (104)
"The Question"
gallery | transcript
US: January 8, 2015
UK: May 16, 2015
GB329
Gumball and Darwin try to find the answer to the meaning of life.
Featured song(s): Eat or Be Eaten, Your Life Doesn't Count
Main: Gumball, Darwin
Debut: none

29 (105)
"The Saint"
gallery | transcript
US: January 15, 2015
UK: May 26, 2015
GB332
After failing at making Alan lose his temper, Gumball and Darwin decide to adopt Alan's positive attitude.
Featured song(s): Spaghetti and Meatballs
Main: Gumball, Darwin, Alan
Debut: Timmy & more...

30 (106)
"The Friend"
gallery | transcript
US: January 22, 2015
UK: May 20, 2015
GB324
Gumball and Darwin help Anais make up an imaginary friend who turns out to be too real.
Main: Gumball, Darwin, Anais, Chimera
Debut: Chimera, Earl & more...

31 (107)
"The Oracle"
gallery | transcript
US: January 29, 2015
UK: May 4, 2015
GB327
After discovering a prophetic painting depicting Gumball's naked run through the mall, he is determined to avoid that outcome.
Main: Gumball, Darwin, Anais
Debut: Pentagon guy, Ken

32 (108)
"The Safety"
gallery | transcript
US: February 5, 2015
UK: May 11, 2015
GB333
After watching a safety video in health class, Darwin becomes obsessed with keeping his family and others safe, and his overprotective ways spread throughout Elmore.
Main: Gumball, Darwin, Anais, Nicole, Richard
Debut: none

33 (109)
"The Society"
gallery | transcript
US: February 12, 2015
UK: May 24, 2015
GB334
When Gumball gets the idea the school has a secret society, he is determined, and irritating, to become a part of it.
Main: Gumball, Darwin
Debut: none

34 (110)
"The Spoiler"
gallery | transcript
US: February 19, 2015
UK: August 1, 2015
GB335
When Gumball and Darwin have to wait to see a movie, they must go an entire week without someone spoiling the plot.
Main: Gumball, Darwin, Anais
Debut: none

35 (111)
"The Countdown"
gallery | transcript
US: February 26, 2015
UK: August 10, 2015
GB331
Miss Simian threatens to expel the boys if they are late for school, so they race against the clock in order to arrive on time.
Main: Gumball, Darwin
Debut: none

36 (112)
"The Nobody"
gallery | transcript
US: March 5, 2015
UK: August 23, 2015
GB339
When things go missing in the house and the family, Gumball and Darwin search for the culprit.
Main: Gumball, Darwin, Rob
Debut: none

37 (113)
"The Downer"
gallery | transcript
US: July 6, 2015
UK: September 3, 2015
GB338
When Gumball's family tries to cheer him out of an inexplicable lousy mood, he wishes they would all disappear.
Featured song(s): Life Can Make You Smile
Main: Gumball
Debut: none

38 (114)
"The Egg"
gallery | transcript
US: August 6, 2015
UK: September 10, 2015
GB340
When Nicole arranges a playdate for Anais with a classy family, the Wattersons try desperately to impress them.
Featured song(s): Just You and Me, I Saw a Big Parade
Main: *Anais, Nicole, Billy, Felicity
Debut: none

39 (115)
"The Triangle"
gallery | transcript
US: July 8, 2015
UK: September 17, 2015
GB337
Darwin joins the school marching band and discovers a talent he never knew he had, which makes Gumball jealous.
Main: Gumball, Darwin, Leslie
Debut: none

40 (116)
"The Money"
gallery | transcript
US: July 9, 2015
UK: September 24, 2015
GB336
The Wattersons have run out of money and are torn between being broke and selling out.
Featured song(s): Imaginate, Joyful Burger Jingle
Main: Gumball, Darwin, Nicole, Anais, Richard
Debut: none