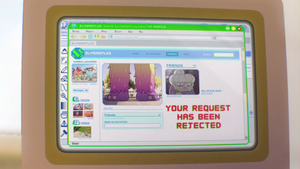 Elmore Plus is a fictional website that Gumball, Darwin, and many other Elmore residents use. Gumball and Darwin used the site to upload a photo from Shotofop in "The Colossus." They also sent a friend request to Hector, who rejects it. At the end of the episode, Hector sends them a friend request. Gumball, not wanting to send him on another rampage, smashes the computer with a hammer.
Features
According to "The Pony," users are able to post pictures, statuses, as well as receive thumbs-up. The website also has a messaging service called Elmore Plus Messenger, first mentioned in "The Signature" and seen in "The Romantic."
Episode Appearances
Season 2
Season 3
Season 4
Season 5
Season 6
Known Elmore Plus users
Gallery
Trivia
Community content is available under
CC-BY-SA
unless otherwise noted.