Dr. Butt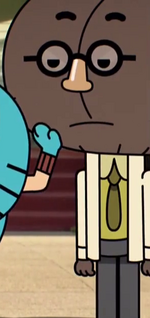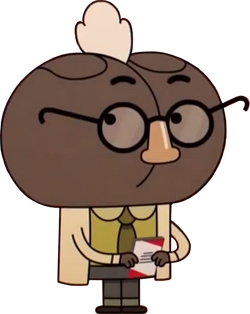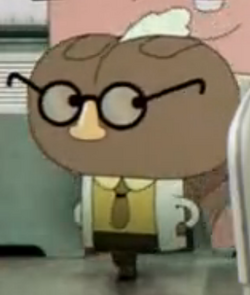 Character Information
Dr. Butt is a minor character in The Amazing World of Gumball. He first appeared in "The Goons." His face is an actual pair of buttocks, but Gumball thought it was Richard playing a prank, (as earlier in the episode, Richard made his butt exactly like Dr. Butt) so, he told him to leave. He is voiced by Dan Russell.
Appearance
Dr. Butt's head appears to be an enormous butt, with a surprising amount of similarity to Richard's. He is dressed in a doctor's uniform, and wears glasses. In Season 3, his appearance slightly changes. The butt crack on his face is longer, and his tie's shadow is also more transparent. In Season 5, his appearance changes again. He gets a mouth and is taller and thinner.
Episode Appearances
Season 1
"The Goons": He appears in the hospital treating the contestants of the dumb race.
Season 3
Season 4
Season 5
"The Fuss": Gumball accidentally touches him while rushing to the tattoo shop.
Trivia
He does not have speaking roles in Seasons 3 and 4.
Gallery
Miscellaneous
Quotes
"

Dr. Butt: [Looks and sounds like Richard's "Butt Puppet"] Hello, I'm Dr. Butt! And I'm going to take your temperature-
Gumball: [Interrupts] Dad! I can't play "Butt Puppet" right now.
Dr. Butt: [Sighs] I was only trying to help.

"
—"The Goons"
"

Gumball: Aw, please don't be a butt, please don't be a butt, please don't be a butt. Ah, thank you universe. [Sees that the thing he touched is Dr. Butt, a butt-headed guy and shivers]
Dr. Butt: Technically, that's my face.
[Gumball is disgusted so he rubs his hand off on something offscreen]
Dr. Butt: Uhh, that's my butt.
[Gumball sighs]

"
—"The Fuss"
Community content is available under
CC-BY-SA
unless otherwise noted.