Doughnut Sheriff
Character Information
Gender:
Male ♂
Species:
Doughnut
Friends:
Gumball, Darwin, the Hamburger Cop, the French Fries, the Coffee Cop (love interest when female)
Enemies:
Sal Left Thumb, Mr. Robinson, Mrs. Robinson, Felicity, the Chimera, The Senior Citizens, Rob, Frankie, the Van Shopkeeper, Quattro, Siciliana, Peter (formerly), the Wattersons (sometimes)
Occupation:
Sheriff
First Appearance:
"The Third"
Voice:
Lewis MacLeod (Season 1)
Dan Russell (Season 2 onwards)
Gallery

Color Scheme
coat
cloth
eye
badge

none
The
Doughnut Sheriff
is a supporting character in
The Amazing World of Gumball
. He is a police officer that works in the city of
Elmore
, but is not very good at doing his job.
Appearance
The Doughnut Sheriff is, as his name suggests, a giant, pink doughnut. Since he is a police officer, he wears an officer's hat, a badge, and a blue policeman's uniform.
Since he is a doughnut, he has a large hole in the middle of his body, which has some large, flat teeth resembling popsicle sticks sticking out, and it functions as his mouth. Strangely, he has pronounced eyelashes, which are usually used on female characters; despite this, he is indeed a male character.
Personality
The Doughnut Sheriff does not seem to be a very capable police officer since he is extremely oblivious towards any actual criminal activity, often not noticing when something is not right. In "The Friend," he is seen relying entirely on a manual to tell him what to do, accidentally causing the Chimera to explode and injuring many of his men. The episode "The Law" shows that Doughnut Sheriff would do anything just to prove one simple point, showing that Doughnut Sheriff could get carried away with ideas.
He shows more of his capabilities in "The Law" with his determination to enforce law and order in Elmore. However, in "The Pizza," he joins in on the chaos, committing crimes himself as he was not paid by Larry for his duties.
He also does not seem to realize that his mouth goes through his body. Anything he throws into his mouth ends up going through him and on the ground behind him. Because of this, he is always hungry. His favorite food seems to be doughnuts, which is ironic, because he himself is a doughnut.
Episode Appearances
Season 1
Season 2
Season 3
Season 4
Season 5
Season 6
Voice Actors
Gallery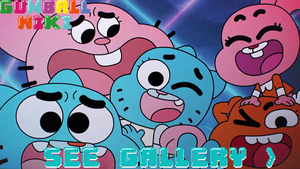 Click here to view the gallery.
Trivia
He is armed with what appears to be a stun gun.
His animation style closely resembles claymation.
His appearance and job are a reference to the stereotype that policemen frequently eat doughnuts on the job.
In "The Ghost," it is shown that he is edible, since Carrie (in Gumball's body) takes a bite out of him.
"The Law" is his first major role.
The Doughnut Sheriff shares several similarities with Chief Wiggum from The Simpsons. For example, he appears to be incapable of working with the police due to his ignorance, his voice sounds similar to Wiggum, and he likes to eat doughnuts frequently.
Even though he himself is a doughnut, he is shown craving doughnuts in "The Spoon." This proves that the Doughnut Sheriff is a cannibal, just like Sarah, who is constantly seen eating vanilla ice cream cones.
In "The Law," he is fired for "misuse of his police siren, unlawful discharge of his weapon, baby bashing, assault with a motorized vehicle, grand theft auto, and absolute disregard for traffic regulations." Later in the episode, he is re-hired by the commissioner.
He has feelings for the Female Coffee Cop, as revealed in "The Shippening." 
Community content is available under
CC-BY-SA
unless otherwise noted.