"They were clearly missing something." "You notice it too?"
This article is a stub. Please help the Gumball Wiki by expanding it.
Thank you!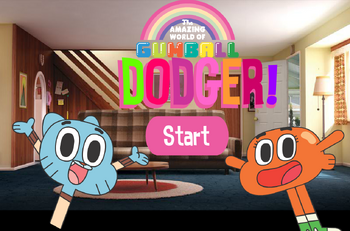 Dodger! (translated from its original Spanish title Esquivador!) is a mobile game based on The Amazing World of Gumball. It is available exclusively to CN Latin America overseas mobile phones.
Gameplay
PC
The game is begun by clicking on the screen. In the game, the player takes control of Gumball as he attempts to avoid water balloons thrown by Darwin. Clicking on the screen during gameplay allows Gumball to dodge the balloons. Darwin throws the balloons increasingly rapidly as the game progresses. The player starts with four lives; getting hit by a water balloon stuns Gumball and deducts one of his lives. As time passes, extra lives begin to appear, which the player can retrieve to regain a life. Upon losing all lives, the game ends.
iOS/Android
TBA
Cast
Gallery
Trivia
It is possible to play this game on PC.
External links
Community content is available under
CC-BY-SA
unless otherwise noted.