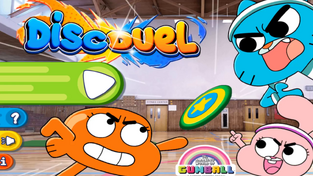 Disc Duel is an online game based on The Amazing World of Gumball.
Story
The children are playing on the school's gym when Richard suddenly busts through the wall, wearing a referee outfit and holding a disc and a trophy. He then offers the kids to participate in a tournament of air hockey, with the trophy as the prize.
Gameplay
Disc Duel is a super-sized air hockey game with a crazy Gumball touch. You and your opponent take turns to throw the disc, scoring points for getting it past each other. You can curl it, bounce it and even do a special power throw to bamboozle your opponent. Score more points than them to progress to the next round. Play as Gumball, Darwin, Penny and many more of the Elmore gang and see how far you can go in the competition!
Characters
Playable
Non-Playable
Gallery
Trivia
Links
Community content is available under
CC-BY-SA
unless otherwise noted.