Daisy the Donkey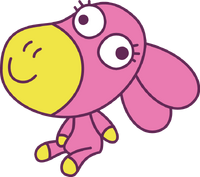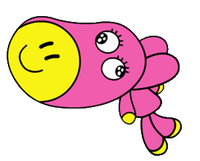 Character Information
Daisy the Donkey is a recurring fictional character in The Amazing World of Gumball. She is a pink and yellow stuffed donkey that was first shown as a character of the Daisy the Donkey Show in "The Responsible." She seems to be a very popular character in the series, seeing as she even has her own cereal and a theme park based on her. Anais in particular seems to be obsessed with her, even more so in the early seasons.
Appearance
Daisy is a pink donkey with a yellow muzzle, hands, and feet. In season 1, she has white sparkles in her pupils, though they have been removed and her eye color changed to purple since season 2. She appears to be a much more intense pink in "The Car," but has been seen with her original colors since then.
Episode appearances
Season 1
Season 2
Season 3
Season 4
Season 5
Season 6
Gallery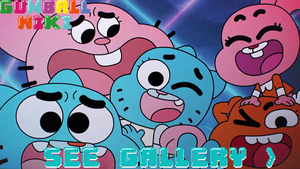 Click here to view the gallery.
Trivia
Daisy has her own theme park, Daisyland.
Daisy has been seen on the cover of a magazine, and she also has her own breakfast cereal, suggesting that she is a pop culture icon in the Gumball universe.

There was also an ice skating show featuring her in "The Car," further supporting the proposition that she is extremely famous.
There is a video game based on her, as seen in "The Disaster."

In "The Quest," Daisy was given to Tina by Anais, however, in future episodes, she is seen again with Anais.
Daisy is a donkey, but in "The Responsible," the closed captions call her show Daisy the Dog Show.
In "The World," it is revealed that Anais received Daisy as a birthday present from Richard and Nicole.

In the same episode, Daisy speaks near the end of the episode, twice.

In "Christmas," there is a poster for Daisy on Ice in the background of Nicole's house when she was a little girl, implying the character has been around for several decades.
In "The Night," Daisy is shown to be alive and have a consciousness. She dreams of swapping roles with Anais and torturing her.
Community content is available under
CC-BY-SA
unless otherwise noted.