Wiki Targeted (Entertainment)
Play Sound
Construction men
Character Information
Gender:
Male ♂
Also known as:
Angela (George's alter-ego in The Lady)
Species:
Lego people
Friends:
Patrick (Hank and George only), Richard (George only), Marvin (George only), Maria (George only)
Enemies:
Butterfly (Hank only)
Occupation:
Construction workers (Hank, George, and Steve)

Chanax Inc. employee (George) Firemen (Hank, George, unnamed red construction man) Truck drivers (Hank, George, Steve) Rainbow Factory employees (various construction men)

First Appearance:
"The Knights" (Hank and George), "The Extras" (Steve)
Voice:
Dan Russell (Hank),
Kerry Shale (George),
Luke McQuillan (George as Angela in "The Lady"),
Stefan Ashton Frank (Steve, George in season 6 onwards)
Gallery
The construction men are recurring characters in The Amazing World of Gumball. They first appeared in "The Knights." They presumably work for Fitzgerald Co. Limited under Penny's father, Patrick Fitzgerald.
The red construction man's name is Hank, the gray construction man's name is George[1], and the blue construction man's name is Steve. Construction men of different colors, such as purple, yellow, or dark blue, also appear throughout the series.
Appearance
The construction men are heavily built construction workers. They have Lego-like hands, perfect for their craft. They have typical construction worker uniforms: Hank wears denim overalls, and George wears an orange vest. They also wear yellow hard hats and brown work boots. Steve used to have a red wig but as of "The Misunderstandings" he does not have it anymore.
Prior to "The Butterfly," their pupils were huge and took up almost all of their eyes. Similarly to the Wattersons in season 2, their pupils would shrink when they expressed certain emotions. As of "The Butterfly," their pupils are permanently smaller.
Personality
In "The Misunderstandings," Hank, George and Steve admit they do not usually socialize with other people, and as a result, their behavior can be seen as inappropriate. Though they are not at all ill-intentioned, and even attempt to "brighten Gumball's day," their genuine compliments seem mocking or creepy.
Episode appearances
Season 2
Season 3
Season 4
Season 5
Season 6
Gallery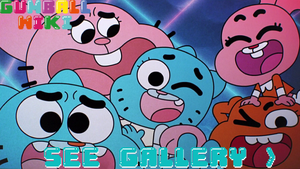 Click here to view the gallery.
Trivia
References