Coach R. Russo
Character Information
Coach R. Russo is a minor character in The Amazing World of Gumball. She makes her first appearance in "The Coach."
Appearance
Coach Russo is a giant pink cube, with a white shirt, green athletic pants, and blue hair. She does not have a neck; her head is directly attached to her legs. Her nose is a red ball, and her ears are located on both sides of her head.
Personality
Coach seems to be lazy. Although she claims she has already won the gold medals of many Elmore Olympic Games, she does not seem to be very skilled in gymnastics, and gets tired easily. She also appears to be very proud of her daughter, Jamie, because Coach believes she is the best and most athletic student in her class. She is also a glutton, as seen in "The Scam."
Episode Appearances
Season 3
Season 4
Season 5
Season 6
Gallery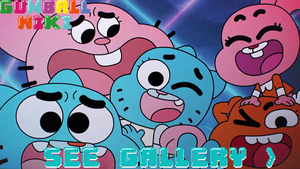 Click here to view the gallery.
Trivia
Unlike most stereotypical gym teachers, Coach is overweight and un-athletic. For example, while she was chasing Miss Simian as a Joy Zombie in "The Joy," she had to stop every few steps to catch her breath.
She always attempts to whistle, but fails miserably, and spews saliva at students in the process.
Despite being un-athletic, Coach has won three gold medals in trampolining.
Coach also won the 1986 Olympics in Elmore.

In actuality, there was no 1986 Olympics, meaning Coach might have lied about her winning the Olympics, or she could have actually won, but since the show is in an alternative universe the Olympics actually were held in 1986.

Before she took up the position in "The Coach," Miss Simian and Mr. Small were shown to be the PE instructors.
Coach is also the coach of the basketball team Elmore Ducks.
Gumball and Darwin thought she was a man in "The Coach."
Coach is one of the few female characters to be voiced by a male. The others are Miss Simian, Sussie (before Season 5), Tina, Bexi, and the Dolphin Woman.
Her voice is similar to that of Roz, a character in the Disney/Pixar movie Monsters, Inc.
She reveals her last name in "The Compilation."
Community content is available under
CC-BY-SA
unless otherwise noted.